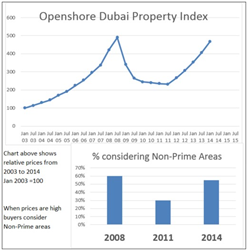 For the same budget of a 1-bed apartment in the Marina, investors can purchase 2 similar apartments inland with greater overall rent and more flexibility.
(PRWEB UK) 21 July 2014
Dubai remains the most favoured place in the Middle East for investment property purchase by buyers from all over the world due to its desired location, high rental yields, and tax free status. Openshore Property surveys have compared the demand for Dubai Property in the different areas of the Emirate over the past 8 years.
Prime Areas are seaside areas in Dubai such as the Palm, Dubai Marina and developments along Shiekh Zayed Road and the current Metro Line such as Jumeirah Lakes Towers, Business Bay and Burj Khalifa area. These are in demand from tourists and for own use by residents.
Non-Prime areas in Dubai are developments away from the sea and particularly along Emirates Road, stretching from the current Dubai Airport to the New Airport and including areas such as International City, Dubai Silicon Oasis, Sports City, Jumeirah Village and IMPZ.
Openshore Surveys have shown that the proportion of investors looking at Non-Prime areas is linked to the state of the market as shown by the Dubai Property Index. The Openshore Dubai Property Index (see figure) shows the relative prices of Dubai property from 2003 to 2014 with the price in January 2003 given a standard rating of 100.
In 2008 prices peaked due to the first Dubai property boom fuelled by off-plan properties. A survey done in April 2008, when the Openshore index was near 500, showed that over 60% of investors were considering Non-Prime areas inland along Emirates Road. Data also showed some were even considering other emirates such as Ajman and Rash-Al-Khaima, as Dubai prices were too high.
From 2009 to 2011 prices fell dramatically following the financial crisis and property even in prime areas was more affordable. A survey done in 2011, when the Openshore Dubai Property index was 240 showed only 30% of investors looking for property in non-prime areas.
Now the second Dubai boom, this time fuelled by increasing population and shortage of ready properties has resulted in prices in prime areas increasing by over 60% in the past year two years.
A Survey done recently in June 2014 when the Openshore Dubai Property index was over 400 shows the return in the trend to consider non-prime areas with over 55% of investors considering such areas to purchase Dubai investment property.
Craig Hamill senior Consultant at Openshore Property explained "It makes sense for buyers to consider Prime areas for 'own use' property. However, for investment the rental yields are actually better in the areas away from the sea. Many investors do not have the budget to purchase a property in the prime areas and some others realize that for the same budget of a 1-bed apartment in the Marina, they can purchase 2 similar apartments inland with greater overall rent and more flexibility."
About Openshore Property Openshore Property is a UK company that helps investors from all over the world purchase property in Dubai.
Sister company in the Group – Find UK Property provides similar investment properties in the UK whilst partner company Sandcastles, based in Dubai markets UK properties and provides marketing and portal services to Dubai based estate agents as well as.