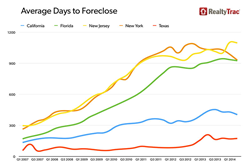 Completed foreclosures were down 5% since May
Chicago, IL (PRWEB) July 17, 2014
Homeowners and lenders like Peoples Home Equity were pleased with the results of RealtyTrac's midyear foreclosure report on July 15 showing improvements to the foreclosure housing market. As of midyear 2014, the numbers of foreclosures were reported to be at the lowest level since 2006. The numbers of foreclosures have fallen 2% from May and 16% from June 2013. Out of all the states, 10 of them had their lowest foreclosure levels since August 2006. Colorado, Texas, Georgia, Arizona, Nevada and Tennessee showed a decrease of around 19% only in the first half of the year. Filling are now just one for every 214 housing units. The states with highest number of fillings per unit were in Florida with one filling for every 74 housing units, Maryland with one filling in 107 units, New Jersey was one in 134, and Nevada was one filling for every 138 housing units.
In June there were 26,889 completed foreclosures and 47,243 first-time foreclosures. Completed foreclosures were down 5% since May and 24% from this time last year. The first-time foreclosures were down for 4% since May and 18% from last year.
In June, there were 46,743 scheduled foreclosure auctions in the U.S., unfortunately, of this total, 12 states experienced an increase from May and 17 states experienced an increase from a year ago.
This decline in foreclosures is great news for homeowners as it means fewer homes on the market holding prices down. Rising home prices would not only be a good thing for homeowners, but also home buyers are waiting for more real estate inventory to hit the market. As home prices rise, homeowners have the incentive to sell their home. More homes for sales will lead to a competitive market for sellers which are great for buyers.
If interested in purchasing a property consider speaking to a Peoples Home Equity loan officer today at: 262-563-4026