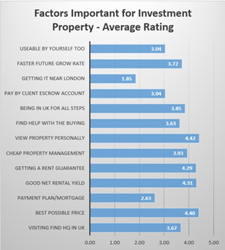 "Our best-selling house costs just £54,995 and delivers 8% rental yield. The same 2-bed house on the outskirts of London could cost over £250,000 and deliver around 3% rental yield.
Lancashire, UK (PRWEB UK) 29 July 2014
Previous surveys done by Find UK Property have shown that being near London was important when considering investment property. However prices in London have gone up sharply over past 5 years and rental yields are very low, making London less attractive to investors. This is confirmed by the recent Find UK Property survey which shows other factors to be more important.
Overseas nationals and UK nationals living and working overseas (also known as Expats) are increasing looking to purchase investment property in the UK. Many residents of other countries see the UK as a "safe haven" when considering long term investment in property. The UK property buying process and selling laws are well regulated and long term title ownership is clear cut. Additionally Expats are now realizing that investment in suitable property offers them better returns than other forms of investment. Rather than investing in property abroad, which can be higher risk, they are now buying UK investment property whilst continuing to work abroad.
A survey conducted in June 2014 by 'Find UK Property' on the buying intentions of overseas buyers, shows the relative importance of factors considered to be key when selecting a suitable investment property in the UK. Survey respondents rated the factors out of 5 with 5 being the most important and 1 being the least important.
Important Factors- Rating
View property personally- 4.42
Best possible price- 4.40
Good net rental yield- 4.31
Getting a rent guarantee- 4.29
Cheap property managing- 3.93
Being in UK for all steps- 3.85
Faster future grow rate- 3.72
Visiting FIND UK HQ in UK- 3.67
FIND UK help with buying- 3.63
Pay by Client Account- 3.04
Useable by yourself too- 3.04
Payment plan/Mortgage- 2.63
Getting it near London- 1.85
Andy Noble, Senior Marketing Consultant at Find UK Property explains these changes in importance. "London property prices are now very high whereas rents in the capital have not risen significantly. The rental yields have thus decreased and are now about 3% compared with 8% in some other areas of the country. Additionally many view that prices may not grow much more in London and could even come down a little."
"Find UK Property helps overseas investors purchase low cost fully managed property in the UK. This change has meant that our low cost 2-bed and 3-bed houses in the Lancashire area have become even more attractive to overseas investors, as these deliver amongst the best net rental yields in the UK"
He added: "Our best-selling house costs just £54,995 and delivers 8% rental yield. The same 2-bed house on the outskirts of London could cost over £250,000 and deliver around 3% rental yield. Thus, for the price of 'one' house in London, an overseas investor could get 'five' similar properties in the Lancashire area, have double the rental yield of around 8%, potentially greater capital growth, and more future flexibility in that some properties could be re-sold whilst others retained."
About "Find UK Property"
Find UK Property are the 'buyers' agent and specialise in helping serious overseas buyers find the most suitable investment property for their needs. The company conducts regular surveys on overseas investors and findings are printed at their "UK Property News" Blog at http://blog.findukproperty.com.
The most popular purchase are the fully managed low cost houses in the price range of £55,000 to £70,000 that come with full management, repair guarantees, and guaranteed rent. Many clients are seasoned investors who may have purchased investment property in other countries via sister companies Openshore Property and Sandcastles based in Dubai. Further details can be found on the Find UK sales website at http://www.findukproperty.com