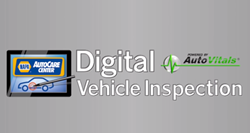 (PRWEB) July 19, 2014
NAPA announced today the launch of its all new digital vehicle inspection process, NAPA AutoCare DVI (DVI) Program, to more than 15,000 NAPA AutoCare Centers in the United States. Powered by AutoVitals (http://www.AutoVitals.com), the DVI software runs on tablets in conjunction with a web browser. It has been custom designed in collaboration with NAPA and NAPA's National AutoCare Advisory Council. The new AutoCare DVI is available immediately to all NAPA AutoCare Centers for a one-time nominal setup fee.
The DVI software will remain available for use to all members during their continued participation of the NAPA AutoCare Program.
"We are providing the best, customized digital inspection program on the market today with our partnership with AutoVitals," said Bret Robyck, Vice President of Sales. "The software focuses on improving technician efficiency, while at the same time, improving the communication between the technician and service advisor … all resulting in improved motorist education and loyalty to the participating NAPA AutoCare Center," Robyck continued.
"It is a privilege to work both with NAPA and members of the National AutoCare Advisory Council to create another web and tablet based productivity tool," said Uwe Kleinschmidt, CEO of AutoVitals. "DVI leverages our deep focus over the past 6 years, designing industry leading web-based motorist acquisition and retention products."
The NAPA AutoCare DVI program and its Add-ons integrate many other benefits, including photo capture, voice to text, VIN capture, OE Service Recommendations, TSB's, and much more. The system also integrates with several popular shop management systems like NAPA TRACS. Many of these benefits are included at no cost to the NAPA AutoCare as they are part of the regular, annual membership fees.
Today's vehicles are more reliable than ever, with less repair occurrences than in the past. However, the average repair cost for AutoCare customer is growing rapidly. The NAPA AutoCare DVI program allows the AutoCare Center to capture more maintenance business and reduce large, costly repairs with their loyal customers.
For information on how a dealer might apply for membership into the NAPA AutoCare Program and take advantage of this "Shop of Tomorrow" technology, interested dealers are encouraged to contact their local NAPA AUTO PARTS Store or they can request more information on http://www.NAPAAutoCare.com.
AutoVitals is the automotive industry's leading provider of integrated solutions for Internet marketing, motorist engagement, and customer retention. For more information, visit AutoVitals at http://www.AutoVitals.com.