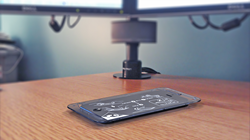 Our custom molds are perfectly sized for each device. Just snap it on, press it down and you're done.
Chicago, IL (PRWEB) July 18, 2014
ReVamp Electronics has today announced the official kickoff of their Indiegogo campaign for Simple Snap screen protectors. Simple Snap has completed the R&D process, and the Indiegogo campaign will give end consumers the chance to fund this innovative protection system through manufacturing & distribution.
"Smartphones and tablets are everywhere today," stated Anant Handa, CEO of ReVamp. "The growth of this segment is difficult to grasp, even for experts. With almost every household owning several smartphones and tablets, device screen protection has become a paramount concern. Conventional screen protectors haven't done a very good job of it, either. Simple Snap was designed to turn the industry on its ear."
Guaranteed for life, Simple Snap screen protectors are like nothing else on the market. Utilizing a patented device mold, users just "snap" screen protectors into place. Oleophobic materials resist fingerprints, and the design offers a perfect fit, within 0.1mm accuracy. It takes only 90 seconds to install, and the high-quality material is anti-bacterial, scratch resistant, oil resistant, waterproof, and 100% recyclable as well.
"It really is as simple as snapping it into place," added Handa. "Our custom molds are perfectly sized for each device. Just snap it on, press it down and you're done. We're proud of what we've achieved – bubble-free screen protectors that last a lifetime. It's the perfect solution for anyone who owns a smartphone or tablet."
Indiegogo backers will enjoy access to several pledge tiers depending on their campaign contribution. Early access to the Simple Snap line of screen protectors is just one of the advantages to backing the new product line. Distribution will commence after the Indiegogo campaign concludes.
To learn more about Simple Snap or to back the company's Indiegogo campaign, visit http://www.SimpleSnap.com.
About ReVamp Electronics:
ReVamp Electronics began in 2010 as an online repair depot for smartphones and tablets. The company quickly grew to become one of the largest screen-repair providers in the world. In 2013, ReVamp began distributing Apple and Samsung repair parts and also launched its ReNū premium line of parts.
Contact: Ashley Carman, Director of Sales
Name: ReVamp Electronics
Phone: 877-9-REVAMP
Web Address: http://www.SimpleSnap.com
Email: Press(at)SimpleSnap(dot)com
Source: Ashley Carman