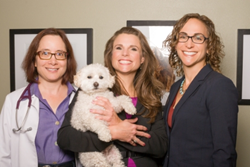 'Many pet owners are not aware that today, just like people, our beloved pets can have access to vet specialists like Oncologists, Internists and Dermatologists,' said Bostick.
Boise, ID (PRWEB) July 18, 2014
Boise internet startup PetsPage.com will be featured in a nationwide PSA on Animal Planet which will air this upcoming Friday, July 25th between 6-10pm EST. The PSA is part of a nationwide veterinary specialty awareness campaign that PetsPage.com's CEO and founder Karen Bostick created in order to educate pet owners about the important work that vet specialists do. The PSA will enable pet owners to make informed decisions about the health of their pets.
In addition to the Animal Planet PSA, a documentary will be featured on PBS stations nationwide for over one year. The campaign tells the touching story of Bostick's dog, Tinks, who was saved from a rare immune disorder by board certified veterinary internist, Dr. Victoria Ochoa, MS, DVM, DACVIM of WestVet Specialty and Emergency Hospital in Garden City, ID. Tinks' story has become an internet sensation and source of education and inspiration for over 600,000 social media followers who otherwise may not have known that vet specialists even exist.
"I am thrilled to be able to shine a national spotlight on such an important cause," Bostick said. "Many pet owners are not aware that today, just like people, our beloved pets can have access to vet specialists like Oncologists, Internists and Dermatologists. With a specialist's help, people can make informed decisions that are right for their pets and seek second opinions, just as we might for ourselves."
With the airing of the Animal Planet PSA and PBS documentary PetsPage.com will launch its Find-a-Vet Specialist directory which will allow people to go to PetsPage.com and search for board certified vet specialists and hospitals in their area. The unique feature is the first of its kind in the pet industry and empowers pet owners to get informed and be their pet's advocate. Previously, they would have had to rely on a referral from their general vet or word of mouth to even discover these important options.
The PSA and documentary, which was filmed in part at WestVet Specialty & Emergency Hospital, features Dr. Victoria Ochoa, the internist who saved Tinks from an early demise. Bostick sought out the help of Dr. Ochoa and WestVet as a last measure after having already spent precious time and money on improper treatment.
"I'm happy to be a part of this campaign because it shows pet owners that they have a place they can turn to in order to learn more about vet specialists and how we can help their pets," says Dr. Ochoa of WestVet. "Even if it saves only one pet's life after their owner sees this PSA or documentary and consults a specialist, it's worth it."
Dr. Sue Ettinger, DVM, DACVIM, an oncologist from Yonkers, NY, also shares valuable pet cancer awareness information on the documentary for PBS.
Veterinary specialists who are board certified may sign up to be featured in the Find-a-Vet Specialist directory through petspage.com/vetspecialists in order to have their hospital and services found by people in their local area. In addition to the directory and national campaign, PetsPage.com offers local social media advertising for specialists to increase public awareness on many levels.
PetsPage.com is an online "social pet community" founded by Karen Bostick in Boise, Idaho in 2013. As the world's fastest growing social network for pets, PetsPage.com is a place where pet lovers from all over the world come to share, socialize, and most importantly, smile! Petspage.com is free for all pet lovers, pet businesses and social pets.
PetsPage.com's Headquarters is in Boise, Idaho.
If you would like more information about this topic or to schedule an interview, please visit PetsPage.com/about-us or call 208/514-4757.