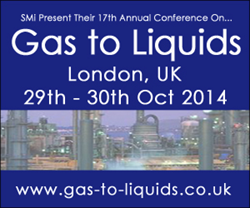 London, UK (PRWEB UK) 18 July 2014
South African Sasol has begun work on a joint study for a large-scale GTL plant in Mozambique, the company announced earlier this month. Sasol's partners in the venture are Mozambique's state oil company ENH, and Italian Eni, which operates an offshore block in the Rovuma Basin (estimated to hold up to 85 trillion cubic feet of gas). PetroSA's GTL plant in Mossel Bay, with a capacity of 36 000 barrels a day, would consume an estimated 1 trillion cubic feet in 20 years of operation.
SMi Group is delighted to announce that Gareth Coeztree, GTL Evaluations Manager, PetroSA, will be presenting on day 1 of the conference, providing attendees with highlights on PetroSA's GTL activities, including current GTL commercialization strategy, GTL projects from 2000-2014, Mozambique GTL and shale Gas Potential.
17th Gas to Liquids conference, taking place in London, UK, on the 29th and 30th of October 2014 will address the latest developments in the GTL market and much more, playing host to the world's foremost authorities on GTL including PetroSA, Sasol North America and BP, among others. The three day meeting will provide the ideal platform for discussion over current and emerging GTL projects, developments within the industry, technology sessions and GTL projects financing.
Speaker Panel-2014 Includes:
Alex Forbes, Energy Journalist and consultant, Forbes Communications
Arata Nakamura, Senior Coordinator, Technical Planning & Coordination Unit, Technical Division, INPEX CORPORATION
Mark Schnell, General Manager, Marketing, Strategy and New Business Development, Sasol North America (Subject to confirmation)
Paul Langston, Business Development Manager, Licensing and Projects, Conversion Technology Centre, BP
Mitch Hindman, Licensing Manager, ExxonMobil Research & Development
Roger Williams, Chief Executive Officer, Energy Security Partners
Jeffrey Newton, President, Aleph Sciences Group
Malcolm Wells, Director, Malwell Corporate Projects Ltd
Neville Hargreaves, Business Development Director, Velocys
Ramon Gonzalez, Program Director, DOE, ARPA-E
Robert Clews, Head of Oil, Gas & Petrochemicals, Project Finance, SMBC Europe Division
Jorge Castaneda, Principal Consultant, EMEA, Independent Project Analysis, Inc.
Zoe Young, Principal Consultant, Midstream and Downstream, Gaffney Cline and Associates
Ed Osterwald, Partner, CEG Europe
Robert T. Do, CEO and President, Solena Fuels
Don Pierson, Business Development Director, Louisiana Economic Development
There will also be the interactive half-day pre-conference workshop on: Successfully exploiting Gas-to-Liquids opportunities (Tuesday, 28 October 2014), presented by Alex Forbes, Director, Forbes Communications Limited
Event's sponsors: British Petroleum and Aleph Sciences Group.
Gas to Liquids – 2014 is supported by: Interfax Energy, OilVoice, Petrospot, MJM Energy, Worldoils, Oil and Gas Journal, Alexander's oil and gas connections, Power Info Today, Oil and Gas International, Upstream online, European Gas Hub, NRG Expert, Rigzone, Engineerlive, E&P Daily, Gasworld, Petrofinder
For more information or to register, go to the event's website http://www.smi-online.co.uk/2014gtl4.asp or contact Andrew Gibbons via +44 (0) 207 827 5156 or e-mail agibbons(at)smi-online(dot)co(dot)uk.
Sponsorship: contact Alia Malick on +44 (0) 207 827 6168 or amalick(at)smi-online(dot)co(dot)uk.
About SMi:
Established since 1993, the SMi Group is a global event-production company that specializes in Business-to-Business Conferences, Workshops, Masterclasses and online Communities. We create and deliver events in the Defence, Security, Energy, Utilities, Finance and Pharmaceutical industries.
We pride ourselves on having access to the worlds most forward thinking opinion leaders and visionaries, allowing us to bring our communities together to Learn, Engage, Share and Network. We hold events in over 30 major cities throughout the world including London, Paris and Singapore and to date have welcomed over 200,000 participants from 80 countries.
More information can be found at http://www.smi-online.co.uk.