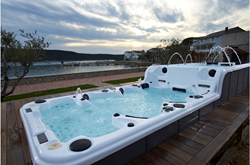 (PRWEB) July 18, 2014
Recently, XC Spa, a renowned swimming equipment manufacturer and retailer, has unveiled its new selection of outdoor swim spas. What's more, the company is now launching a big promotion for these great spas. Clients who place an order before July 26 can get a discounted price, from 15 to 25 percent off.
The company's senior spokesman states, "We are excited to release our new outdoor swim spas for customers from every part of the world. All of these new items are offered at low prices because we want to bring real benefits to all our loyal clients and strengthen the relationship with frequent callers. In addition, all people can enjoy secure and easy buying experienced on our website. Please note that the cheap outdoor swim spas will be available until July 26."
The company's affordable outdoor swim spas are warmly welcomed by worldwide consumers. A lot of customers like its high quality and comfortable products. They are all made from great materials and priced very reasonably. At present, many of its items are on sale.
For additional information, XC Spa has been specializing in the swimming equipment industry for several years. Its main intention is to help worldwide distributors to get high quality items and save money at the same time.
About XC Spa:
XC Spa is an ISO 9001:2000 certified company offering a wide range of Spa products, especially hot tubs, outdoor spa, and swimming spa tubs. The company's products go through a strict quality-control process, and they are resistant to weathering, warping, and scoffing. Premium product quality and great customer service are the reasons that their products are widely recognized by customers worldwide.
For more information, please visit http://www.xcspa.com/swim-spa/swim-spa-851.html.