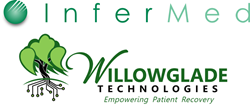 The synergy between InferMed and Willowglade is clear. John's vision of a 'personalised patient experience' becomes a reality by embedding Arezzo into the Willowglade solutions.
London, UK / Orange County, California, USA (PRWEB UK) 21 July 2014
InferMed and Willowglade Technologies share a vision of patients receiving healthcare that is personalised to them. Embedding InferMed's Arezzo technology into Willowglade's 'Personalized Patient Experience™' solutions will result in additional value for patients.
Willowglade Technologies specialise in solutions that support the emotional, clinical and social needs of patients diagnosed with cancer, their caregivers, their families and their friends by providing mobile applications. Their technology provides timely and relevant educational materials - when and where patients need it - and helps patients, caregivers, friends and family better understand the diagnosis, treatment options and more. Willowglade's solutions also facilitate communication and collaboration between the patient and invited friends and family. This improves the support network available to the patient as they go through their cancer journey.
Embedding the Arezzo engine from InferMed into these solutions will make further personalisation possible and will ensure that patients are presented with information that is relevant to them at that point in time in their cancer journey.
John Papandrea, Founder, President and CEO of Willowglade Technologies commented, "Patients with cancer, their friends and family are frustrated with the lack of information available to them that is understandable, up to date, and specific to the patients' diagnosis and cancer journey. By leveraging Arezzo as a component of our platform, we are able to realise our vision of providing a personalised patient experience, initially for cancer patients."
Duane Lawrence, CEO of InferMed, added, "Cancer care has been a fundamental part of what InferMed is all about since before our founding as a company while we were still part of Cancer Research UK. The synergy between InferMed and Willowglade is clear. John's vision of a 'personalised patient experience' becomes a reality by embedding Arezzo into the Willowglade solutions. We look forward to working with the Willowglade team to deliver these benefits and to developing the next generation of tools that will optimise cancer patient care in the US and around the world."
Willowglade Technologies are inspired to leverage technology to help cancer patients by empowering them to manage the emotional challenges, clinical treatment, and health system interaction on their path to recovery and survivorship.
Their mission will be achieved by providing easy to use, intuitive 'apps' that help patients, caregivers and their friends and family, with personalised self-care programs, personalised education, support networks and by enabling healthcare system collaboration.
Their solutions also support the needs of healthcare organisations to provide high quality service to their patients, improve patient outcomes, and minimise the cost of providing excellent care – and by incorporating both retrospective and predictive analytics.
Since 1999, InferMed has provided software and services to support best practice in medicine. Through its MACRO EDC application and Arezzo® decision support technology, patients receive safe, up-to-date medical treatment based on best available clinical evidence. InferMed solutions tame the volume and complexity of clinical information, transforming it into actionable knowledge, available at the point of care for clinicians in research and practice, and to patients in their homes. InferMed solutions are accessed over a million times per month across Europe, North America and Australasia.
In April 2012 InferMed won a prestigious Queen's Award for Enterprise in Innovation for its work in developing and commercialising decision support systems for healthcare using its Arezzo Clinical Decision Support technology. The Queen's Award acknowledged the growing vital role played by Arezzo in encouraging the consistent use and development of good practice, helping to raise standards of clinical care and ensuring that medicine is right first time, every time.
If you would like more information on this release, please contact Mark Snell at InferMed Ltd on 07500 893063 or at mark.snell(at)infermed(dot)com.