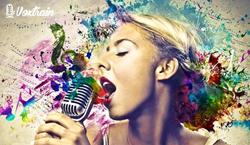 You want to train your voice, but you lack the discipline, program and inspiration. voxtrain.com will simplify your singing dreams.
Berlin, Germany (PRWEB UK) 18 July 2014
"When it comes to singing, there is such an abundance of disorganised training material on Youtube, it's overwhelming. Voxtrain cuts through the noise of opinions and theory so that you can simply train with a plan, everyday," says Mandy.
Using the play on the word 'train', Voxtrain has set out a metro map where each station looks at a different aspect of vocal training. Users advance along the train lines as they progress through each lesson's videos, textual content and applied exercises in audio format.
The application has a personal recording feature which enables users to record themselves. "It is so helpful to hear yourself, you'll be amazed at how much self-correction happens naturally when you listen to yourself singing outside of your own head," says Heinz.
The Online App costs10€ per month, but is free to try. Voxtrain will launch a video competition exclusively for its users with prize money of 25'000€. Competition rules will be announced on voxtrain.com in August 2014.