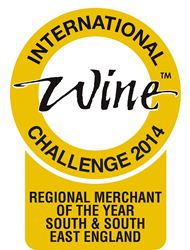 Most of the praise must go to the people of Cobham and the surrounding villages for their continued support and making us one of the best.Thank you.
(PRWEB UK) 23 July 2014
The Wine Reserve, Cobham's family-owned wine merchant has won the International Wine Challenge Regional Merchant of the Year Award for the second time since it opened in 2010. The award is given to the independent wine shop that has an outstanding range, excellent customer service and demonstrates interesting or innovative ways of engaging customers in Wine.
Owner, Marco Attard and the rest of the team attended the ceremony last night to collect the award. The International Wine Challenge is often thought of as the Oscar's of the wine industry. Attard said, "We are very proud to receive this award and the team have done a great job over the years to build us into one of the most successful wine merchants in the UK."
The Wine Reserve opened in Cobham in 2010 with the aim of supplying good quality, interesting wines to the area. The staff are dedicated to unearthing star wines from across the wine producing world from little known grape varieties through to unusual countries such as Armenia or Uruguay. Whilst building an impressive range of old world favourites from Italian, French, German and Spanish wines as well as some fantastic producers in the New World.
Tim Walker, The Wine Reserve's wine manager said, "I'm incredibly pleased with the variety of wines we have to offer. There's not a single wine I'd have problems recommending. We now stock around a 1000 wines so whatever your taste we have a wine you'll love. We know wine can be intimidating, so we offer free tasting all day every day – customers can try before they buy. Everyone in the Wine Reserve loves wine and likes to share that passion; whatever the occasion whatever the question, we're always happy to help." There are extra discounts available for customers when they buy six bottles or more and free delivery to the local area.
The Wine Reserve has built up an impressive range of premium, artisan spirits of which many are also available to taste. They also boast some of the best Champagne prices in the country. As Attard explains, "We negotiate hard in order to pass the savings on to our customers, we never artificially inflate the price in order to make a discount look good we concentrate on delivering a good price always."
The Wine Reserve hosts wine tastings in store, recent tastings have included Greywacke winemaker tasting and a blind pink Champagne tasting: challenging customers to identify some of the top Champagnes when all the branding and packaging is removed. There is an Autumn event plan in place which includes a Rioja tasting, Crystallum winemaker tasting and The Wine Reserve's annual Christmas tasting at Horsley Towers.
To celebrate their success The Wine Reserve are inviting customers to stop by the store this Saturday, July 19th, for a free glass of fizz. Attard said, "Most of the praise must go to the people of Cobham and the surrounding villages for their continued support and making us one of the best. Thank you."