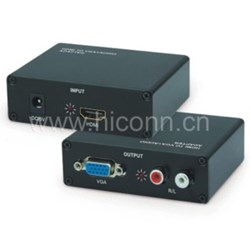 (PRWEB) July 18, 2014
Recently, Hiconn Electronics, one of the world's leading computer accessory factories, has announced its new designs of HDMI to VGA Converters. At the moment, the company is offering great savings on all these converters. The company's chief executive officer says the special offer will last until July 30, 2014.
Hiconn Electronics is not a supplier to be underestimated. In addition to its high quality computer accessories, the company keeps in touch with its customers. It has promised that all new and old clients will receive the best items. All its HDMI To VGA Converters are designed by top designers; they are made with high quality materials.
Here is a detailed description of the company's HDMI to VGA Converters:

Model NO.: HVA-2M
Application: Multimedia, DVD Player
Color: Black
Type: Coaxial
Certification: RoHS, CE, ISO9001, UL
Connector: HDMI
Export Markets: Global
Audio output format: 2 channel LPCM.
Compliant with HDMI 1.3.
Support HDCP 1.2.
VGA resolutions: 640 x 480@60Hz, 720 x 576@50Hz, 1280 x 720@50/60Hz, 1920 x 1080@50/60Hz, 800 x 600@60Hz, 1024 x 768@60Hz.
All brand new converters feature delicate craftsmanship and great performances. "We are proud to release our latest versions of HDMI to VGA Converters to worldwide distributors. Now, all customers can get the premium quality at discounted prices," the chief executive officer says.
About Hiconn Electronics
Hiconn Electronics (Shenzhen Hiconn Electronics Co. Ltd.) is devoted to designing and manufacturing a wide range of connection cables and customized cable assemblies, offering many HDMI cables, VGA cables, SATA cables, USB cables, 1394 cables, DVI cables, SCSI (Small Computer System Interface) and more. For more information, please visit http://www.hiconn.net/.
Contact Person: James Yin (Sales Director)
Company Name: Shenzhen Hiconn Electronics Co., Ltd.
Address: Shenghua Building., Xixiang Road., Baoan District, Shenzhen, Guangdong Province, China
Zip Code: 518102
Tel: +86-755-8109 8345
Fax:+86-755-2779 3497