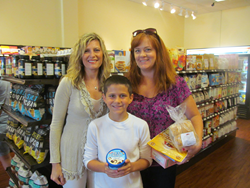 Over the past 25 years, New Vitality Health Foods, Inc. has grown to become a nutrition resource center. Three team members are Certified Nutritional Consultants.
Orland Park, IL (PRWEB) July 18, 2014
Diana Sourek, MS, CNC, Certified Gluten Practitioner, and manager New Vitality Health Foods, Inc explained, "Probiotics are organisms such as bacteria or yeast that are believed to improve health. The digestive system is home to more than 500 different types of bacteria. They help keep the intestines healthy and assist in digesting food. In recent years, the use of probiotics in both infants and toddlers has shown positive results in supporting the development of a healthy balanced gut micro flora and overall immune system development."
The immune system begins at birth:
The immune system begins to develop from birth as the gut micro flora becomes populated with a variety of microorganisms. The types and proportions of microorganisms early in life are influenced by the infant's method of delivery (vaginal vs. C-section) and diet (breast milk and/or formula). During delivery, a baby's GI tract becomes colonized with good, bad, and benign bacteria (known as flora) as they pass through the birth canal and pick up some of the mother's microbes. Because babies delivered by C-section miss out on this, they initially end up with a different collection of flora. The difference in colonization may be behind the higher incidence of allergies and asthma in C-section babies.
Diet is a major factor in the composition of the gut micro flora:
In the breastfed infant, bifidobacteria make up 80–90% of the intestinal flora; the predominance of bifidobacteria is credited by many as one of the reasons for the general good health of breastfed infants.
As children grow, their immune systems continue to develop. The period from birth to 18 months is considered critical for the proper development of the micro flora and the mucosal protective immune system. As the older infant makes the transition from a diet dominated by breast milk and/or formula to include solid foods, the gut micro flora also makes a transition.
What factors influence a negative change in gut micro flora?
The toddler's GI tract is increasingly challenged by new influences including foods, microbial antigens and allergens. For example, infants with food allergies have been reported to have an imbalance of harmful and beneficial bacteria in the intestine.
Researchers believe that some digestive disorders happen when the balance of friendly bacteria in the intestines becomes disturbed. This can happen after an infection or after taking antibiotics. Antibiotics, for instance, can kill both bad and good bacteria in your child's gut flora -- and that can lead to gastrointestinal distress. Intestinal problems can also arise when the lining of the intestines is damaged. Taking probiotics may help.
Ms. Sourek added, "Children who take probiotics on a consistent basis often see a reduction in eczema, colic and other intestinal conditions such as colitis or irritable bowel syndrome." Two of the most common categories of beneficial bacteria that naturally occur in the body are called Lactobacillus and Bifidobacterium. For infants and children alike, finding a probiotic that contains a variety of strains from these two categories is important.
The specific probiotic needs of infants, toddlers and children are vastly different than the flora makeup of an adult. Over the past 25 years, New Vitality Health Foods, Inc. has grown to become a nutrition resource center. In addition to having a wide selection of homeopathics, nutritional supplements and vitamins from national companies, what defines New Vitality Health Foods, Inc. as a nutritional resource center are the educated and experienced staff that can assist customers. Three of the four New Vitality Health Foods, Inc. center team members are certified nutritional consultants. "When a customer enters the store, our friendly team listen to their health concerns and can direct them in the selection of a product that will best address the issues at hand. The fact that we have customers whom have been shopping the store since we opened our doors and have come to count on the direction they receive, is a testament to our service."
New Vitality Health Foods, Inc. offers infant and children probiotics from:
1. FloraBear, by RenewLife is an advanced chewable probiotic for children. FloraBear for Kids is a probiotic supplement formulated for children ages 2 and up. Each orange-flavored tablet provides 1 billion Bifidobacteria and Lactobacilli cultures to help maintain a healthy balance of intestinal bacteria. FloraBear for Kids also contains L-glutamine and N-acetyl D-glucosamine, two critical amino acids used to maintain the health of the intestinal lining.
2. Florajen4Kids, by Florajen helps maintain a natural balance of flora, important for intestinal health and a developing immune system. Bifidobacteria play an extraordinary and essential role in children's digestive and immune health. That's why Florajen's founding bacteriologist has developed a probiotic formula especially for children.
3. Dinosaurs Daycare Defense from Kal is an easy to mix powder that is intended to provide nutritive support for daily intestinal, oral and immune health support for children. It contains probiotics, D3 and colostrum.
New Vitality Health Foods, Inc. suggests checking with your child's pediatrician before beginning any new nutritional supplement.
About New Vitality Health Foods, Inc.:
Established in 1988, New Vitality Health Foods, Inc. provides Chicagolands' largest selection of allergy-free foods that have met their high standards for taste, quality, and nutrition. New allergy-free foods are introduced weekly. They also carry frozen foods, vitamins, herbs, homeopathic, aromatherapy, body care, pet care, household items and much more. New Vitality features only the highest quality, effective nutritional supplements to support their customers' total health. New Vitality Health Foods, Inc. is located at Orland Park Crossing, 14225 S. 95th Avenue Suite 410, Orland Park IL, 60462. (708) 403-0120. Open: M – F 10 a.m.-7 p.m.; Sat. 10 a.m. – 6 p.m. and Sun. 12 p.m. – 5 p.m. http://www.newvitalityhealthfoods.com