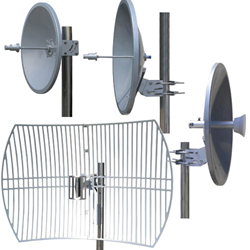 (PRWEB) July 18, 2014
Recently, ZDA Communications, one of the world's leading antenna wholesalers and retailers, has introduced its high-performance parabolic dish antenna series, announced great discounts now at its online store.
The sales director of ZDA Communications states, "These new services that we did not provide before are designed for directional applications, which include point to point systems, point to multi-point and wireless backhaul in 400MHz, 700MHz, 800MHz, 900MHz, 1.8/1.9MHz, 2.4GHz, 2.6GHz, 3.65/3.5GHz, 5GHz band, with high gain and tight beamwidths. If any cannot find his desired style or size in our online store, he can contact us with special requirements."
Moreover, ZDA Communications has specially introduced its solid dish antennas, which have better front-to-back ratios and higher gain in applications. ZDA's antenna experts focus on providing the clients with the cost-effective products and useful information available for different usages.
Customer satisfaction, which relates to business growth, is the goal of ZDA Communications, which has undergone a rigorous benchmarking process that compares the company's operational metrics to those of its peers, using the first-class database in the industry. All ZDA Communications is doing to provide better products and services to the customers worldwide.
Furthermore, ZDA Communications has come up with big discounts on its full line of well-designed UHF antennas. These models come with discounted shipping and gift package. ZDA Communications vows that their antennas come with 100% best price guarantee.
About ZDA Communications
ZDA Communications US LLC is a leading manufacturer and supplier of all kinds of wireless antennas, including Yagi antennas, Parabolic dish antennas, cell tower sector antennas, External wireless antennas, mobile antennas, Broadband and Ultra Wide Band Antennas. For more details of the company and its products, please visit http://www.zdacomm.com/wireless-antenna-category-by-type/parabolic-dish-antenna/.