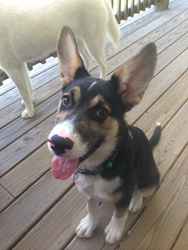 The value of this giveaway totals more than $1,000, but the value of protecting pets and the consumer's hard-earned money is priceless.
(PRWEB) July 18, 2014
PetFirst and the City of Jeffersonville, Ind., announce the winners of the 10th Anniversary Sweepstakes, including a grand prize winner receiving pet insurance coverage for an entire year. The contest was held as part of PetFirst's Ten Year Anniversary as a national pet health insurance provider and its continued growth in the southern Indiana community.
"Partnering with the City of Jeffersonville provides the opportunity to give the gift of pet insurance to 11 winners," said Katie Grant, CEO of PetFirst. "The value of this giveaway totals more than $1,000, but the value of protecting pets and the consumer's hard-earned money is priceless."
The sweepstakes entrants submitted a photo of their pet as well as a list of ten words that described their beloved feline or canine family member. Hundreds entered the contest, and after a random selection, PetFirst and the City of Jeffersonville are pleased to announce the winners.
Winners of the $50 pet insurance gift card are:
1. Ashley Quetel with dog Marley
2. Diana Snyder with cat Itsy
3. Courtney Crowley with dog Owen
4. Laura Callihan with dog Bailey
5. Amanda Schaumburg with dog Fannie
6. Amy Cardwell with dog Wally
7. Sharon Jones with cat Lollipop
8. Samara Gilbert with dog Luna
9. Tomika Apedoh with dog Max
10. Cindy Cook with dog Max
Tracie Morgado is the grand prize winner receiving a free one-year Lifetime 5,000 policy for her dog Zeke, courtesy of the City of Jeffersonville.
Each winner and a photo of their pet is featured on the PetFirst Twitter and Facebook page to share with other pet parents and pet lovers. With the success of the PetFirst Ten Year Sweepstakes, PetFirst announces that it plans to do more contests and sweepstakes in the future, in addition to its ongoing Pet-of-the-Month Contest for current policyholders.
PetFirst Lifetime policies cover accidents and illnesses, including chronic, hereditary, and breed-specific conditions. The Lifetime policies are offered with up to $5,000, $10,000, or $20,000 of annual coverage, with no per-incident limit.
To learn more about the Lifetime policies, or the value of protecting your pet with pet insurance in general, contact PetFirst at 877-894-7387.
About PetFirst
PetFirst is the fastest growing pet insurer in North America offering easy-to-understand lifelong coverage for dogs and cats. PetFirst's comprehensive coverage is unique in the industry providing simplified policies with coverage for hereditary, chronic and breed-specific conditions with no per diagnosis limits. PetFirst offers pet insurance in all 50 states and the District of Columbia through animal welfare agencies, retailers, employers as well as other partners. PetFirst polices are underwritten by American Alternative Insurance Corporation (Munich Re) which is rated by A.M. Best as A+. Additional services are underwritten by Lloyd's. For more information about PetFirst pet insurance, visit http://www.petfirst.com or call 877-894-7387.