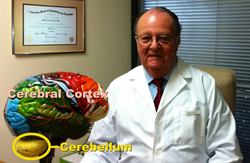 The risks of child and drug abuse as well as many other lifelong impairments appear significantly higher for those with ADHD and dyslexia who did not receive early and 'normalizing' pharmacological treatment.
Great Neck, N.Y. (PRWEB) July 22, 2014
Two recent studies indicate that previously untreated adults with dyslexia and ADHD were significantly more abused as children than those without these disorders. And a prior Harvard study noted that stimulant treatment for ADHD children reduces their otherwise higher risk of later addiction and alcohol dependence. However, the data did not reveal causation.
Since over 25% of the population suffer from dyslexia and ADHD, it is imperative to clarify the origins and best treatment for these disorders so as to prevent child abuse and addiction as well as a wide-range of other severe impairments from secondarily arising.
Because Dr. Levinson has examined and successfully treated over 35,000 children and adults with dyslexia and/or ADHD, his clinical insights are considered especially helpful.
Levinson's four decades of "challenging" research has demonstrated that both ADHD and dyslexia are caused by a primary fine-tuning impairment within the cerebellar-vestibular or "inner-ear" systems— triggering both sensory and motor signal- scrambling.
Accordingly, ADHD occurs when initially normal frontal lobe and related brain mechanisms fail to descramble the distorted concentration and activity signals received and modulated. Similarly, a diverse range of dyslexia symptoms occur when normal parietal and other vital brain structures fail to descramble the "dizzy" reading, writing, spelling and other signals received and transmitted.
Fortunately, there are very favorable therapeutic modalities available for ADHD and/or dyslexia. Were children with the above frequently overlapping disorders properly diagnosed and treated early, both their childhoods and adult lives would be substantially normalized.
"Rapid emotional, behavioral and academic successes often occur when selective combinations of stimulants and related inner-ear-enhancing medications are properly used for ADHD and dyslexia," notes Levinson. "When other slowly helpful modalities are added, they're much more effective and the improvement rate approaches 100%."
By contrast, without vital "normalizing" medical help many dyslexic and ADHD children continue to inwardly feel flawed, dumb, "brainless," irregardless of IQ. Indeed, the smarter they are the dumber they feel. Prone to increased stress, frustration and repeated failures as well as diminished self-esteem, many feel guilty. As a result, some invite or tolerate punishment and abuse or bullying while others act-out their frustration and anger by abusing others.
Too many of these failing children drift into drugs, attempting to escape their handicap and numb debilitating emotional pain. Their inability to normally function intensifies all other predisposing factors, thereby significantly explaining their higher risks or comorbidity for physical abuse, addiction, depression, anxiety, etc.
Without an in-depth and balanced understanding of the pros and cons of properly prescribed and monitored helpful medications, many caring parents and dedicated individuals may not fully appreciate the remarkable short and long-term benefits possible. And others may naturally fear side-effects and so avoid medication use. However, Levinson's clinical experience as well as corroborating scientific evidence such as that presented suggest that the risks (e.g., child and drug abuse, etc.) of non-pharmacological treatment for ADHD and dyslexia are greater.
"By analogy, consider medications equivalent to cars, trains and planes," states Levinson. "When properly maintained and 'driven,' benefits are maximized and risks are minimized. If meds are improperly administered and monitored—poorly 'driven,' then the fault lies with the prescriber or unsupervised abuser, not the meds."
"I always start medications, irregardless of their nature, in very low doses, titrate up slowly, and tolerate absolutely no side-effects. A patient's need for steadily increasing doses or non-compliant acting-out is considered a major side-effect. When any negative drug effect initially occurs, they're often minimal and rapidly disappear as soon as doses or meds are immediately reduced, changed or stopped. As a result, I seldom see significant side-effects--mainly significant benefits."
About Harold Levinson, M.D.:
Formerly Clinical Associate Professor of Psychiatry at New York University Medical Center, Dr. Harold Levinson is currently Director of the Levinson Medical Center for Learning Disabilities in Long Island, New York. He is a well-known neuropsychiatrist, clinical researcher and author. For more information, call 1(800)334-7323 or
visit: http://dyslexiaonline.com.