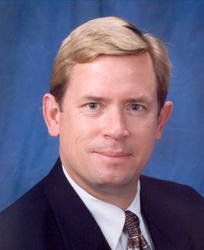 Being appointed to this editorial board is a testament to Laddie's knowledge and expertise, and a confirmation of HNTB's ongoing commitment to providing a full suite of services for the aviation market
Tampa, FL (PRWEB) July 18, 2014
Laddie Irion, national aviation market sector leader and senior vice president for HNTB Corporation, has joined the editorial advisory board for Airport Business magazine. The publication is the most widely circulated business publication targeting airport managers, airport-based businesses and corporate flight facilities in North America.
"Being appointed to this editorial board is a testament to Laddie's knowledge and expertise, and a confirmation of HNTB's ongoing commitment to providing a full suite of services for the aviation market," said Michael Sweeney, PE, chairman of professional services and senior vice president.
Based in HNTB's Tampa office, Irion is responsible for directing all of the firm's aviation services nationwide. Over the past three decades, he has worked on more than 100 aviation and airport projects in the United States and abroad. He served as principal-in-charge on a number of projects associated with large-scale airport expansion programs, including work in Dallas, Phoenix, San Francisco, Los Angeles, Washington, D.C., and Hong Kong.
Irion also is involved in the Airport Consultants Council, Aero Club of Washington, D.C., U.S. Joint Planning Development Office, and Airport Council International-North America.
HNTB has completed many signature aviation projects, including the design of the "Green Build" expansion at San Diego International Airport, engineering and design services at Los Angeles World Airports, design and construction management of runway status light implementation at airports across the country, and design of the runway expansion at Fort Lauderdale-Hollywood International Airport. In Tampa, the firm has worked with Tampa International Airport on its master plan.
About HNTB's aviation practice
HNTB's aviation professionals are dedicated to serving as a true extension of each airport client's staff. The firm has a long history of delivering a wide range of airside and landside services and projects – including terminals, runways, advanced financial services and airport planning – to the largest airports in the United States.
About HNTB
HNTB Corporation is an employee-owned infrastructure firm serving public and private owners and contractors. Celebrating a century of service, HNTB understands the life cycle of infrastructure and addresses clients' most complex technical, financial and operational challenges. Professionals nationwide deliver a full range of infrastructure-related services, including award-winning planning, design, program delivery and construction management. For more information, visit http://www.hntb.com.