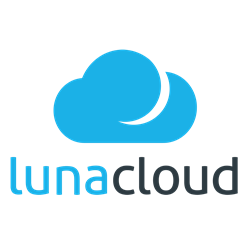 Over these two years, Lunacloud has grown to serve more than 5,000 customers from 63 different countries, supporting them in 5 different languages.
London (PRWEB UK) 22 July 2014
Lunacloud, a European pure-play cloud services provider, has just celebrated last month, its second year delivering reliable, elastic and low cost cloud infrastructure and platform services (IaaS & PaaS). Lunacloud was founded in 2011, by two Internet pioneers - Charles Nasser and António Miguel Ferreira – that have a 18-year track record in the industry, in founding and leading successful technological companies like Claranet, Esoterica and Amen, that are serving millions of customers around the world.
Lunacloud is an increasingly known and recognized global cloud provider among developers, start-ups and the tech community, that started its operations in 2012 with offices in the UK and Portugal and has expanded to France (2013) and Russia (2014). Its datacenters are EU West (Lisbon), EU Central (Paris) and, soon, EU East (Moscow).
Customers host applications (websites, intranets, ERPs, internal development, SaaS, etc) and data with Lunacloud, on its elastic and reliable compute & storage resources. The computate resources (virtual servers or cloud servers) can be used to host websites, but in most cases are used to host other applications, from SaaS providers to internal business applications (ERP, CRM, BI, ...) as well as application development frameworks, from PaaS providers.
Cloud computing is a disruptive concept that has come to transform the way people and businesses consuming technology resources: computing, operating systems, databases and end-use applications.
Lunacloud is positioned to provide cloud computing services (IaaS and PaaS) respecting all the five essential features of a pure cloud model (on-demand self service, broad access to the network resources, resources pooling, rapid elasticity, pay-per-use service), through a public cloud service to address to technological SMEs, start-ups, developers and system administrators.
Lunacloud has a global market presence through three families of innovative services with increasing demand:
Cloud Servers – Virtual elastic server with choice of RAM, CPU and Disk resources, deployed in minutes and running Linux or Windows, paid per usage, by the hour. Full control of the servers is done via a web control panel or an API.
Cloud Storage – Virtual Disk, with 10 GB to 2 TB capacity, accessible via the Internet, through a web control panel or an API. Purchased exclusively online, automatically provisioned in minutes and paid by effective capacity used, per GB per month.
Cloud Jelastic – A last generation cloud platform for Java, PHP and Ruby applications hosting, based on Jelastic's technology, the first solution that is able to deliver Platform-as-Infrastructure combining both PaaS and IaaS into a single, turnkey cloud solution for developers to focus on their applications and not on infrastructure management, paid per hour.
Over these two years, Lunacloud has grown to serve more than 5,000 customers from 63 different countries, supporting them in 5 different languages (english, french, portuguese, spanish and russian). Its customer base includes from development freelancers and startups to larger companies. More than 50,000 cloud servers have been created in Lunacloud's infrastructure, since it started operations.
With only two years of existence, Lunacloud also has been distinguished and referenced by many organizations related to research and analysis on the IT market. A milestone was its brilliant result on a performance evaluation benchmark, which exceeded two major market players, Amazon Web Services and Rackspace, done by US-based cloud analyst Cloud Spectator.
Lunacloud customers ensure that the quality of service provided by Lunacloud is above average, such as João Carvalho, responsible for the company that developed and manages the social platform http://www.palcoprincipal.com hosted on Lunacloud servers. João Carvalho explains that the portal was previously hosted in a well-known American hosting supplier. However, he said that issues such as proximity, telephone technical support and decreased lag time, were decisive for migrating the entire platform to Lunacloud.
One diferentiator of Lunacloud's service is that customers may choose any amount of RAM, CPU and DISK and create Cloud Servers that are specific to their needs, instead of having to choose between pre-packaged servers, which most providers offer. By being able to tailor resources to the needs of their applications and data, customers optimize performance & cost, not wasting resources. And changing resources can be done, without having to reboot servers and suffer service downtime.
Another of the advantages of hosting with Lunacloud is that data will reside on an European provider not being subject to disclosure under the US Patriot Act.
In short, Lunacloud has won its space among the competitive cloud landscape and is an excellent alternative to other popular cloud service providers.
Lunacloud is a "glocal" (global, but local) cloud provider, that focuses on delivering simple, elastic, competitive and fully-localised cloud services.