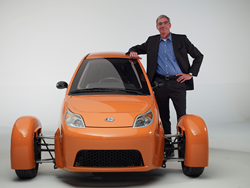 Phoenix, AZ (PRWEB) July 18, 2014
Attendees at Comic-Con 2014 in San Diego will get an up-close look at the future of American transportation, thanks to a partnership between GeekNation, the Los Angeles-based entertainment website, and Elio Motors, the start-up transportation company set to launch an 84 MPG, $6,800 vehicle in 2015.
Elio Motors' aerodynamically styled 3-wheeled prototype will be used to chauffer celebrities from the Hard Rock Hotel to various events throughout Comic-Con weekend, July 24-27. During the rides, GeekNation will interview celebrities for a series of videos to be posted to GeekNation.com. The route will take the vehicle through the heavily trafficked Gaslamp Quarter in Downtown San Diego.
"We're thrilled to have this opportunity to introduce our vehicle to the forward-looking and innovation-embracing audiences of GeekNation and Comic-Con," said Paul Elio, founder and CEO of Elio Motors. "There is a common thread between Comic-Con fans and Elio Motors fans. They are incredibly passionate about the things they love, whether its comic books, movies, or in our case the future of American transportation. Wherever we go, fans praise our affordability, fuel efficiency and futuristic design. Consumer enthusiasm continues to skyrocket."
The team at GeekNation, which chronicles cultural icons with devoted legions of fans, is already seeing a strong reaction to the partnership with Elio Motors.
"Since we posted the Elio on our website, we've had a great response from our followers," said Clare Kramer, CEO of GeekNation. "It really is different from anything available today, and one thing about GeekNation fans, they like things that are new and unique. Elio Motors is a great match."
Comic-Con fans will have the opportunity to see the Elio's aerodynamic body firsthand. The unique front-to-back two-person seating gives the vehicle an airplane-like feel. While it is nearly as long as a traditional mid-size passenger vehicle, its body is half the width. This creates less wind drag at highway speeds, and will make the Elio one of the most fuel efficient vehicles on the road.
Elio Motors already has made a deep connection with consumers. To date, nearly 25,000 people have put down money to reserve a place in line to purchase one when they roll off the assembly line.
About Elio Motors
Founded by car enthusiast Paul Elio in 2008, Elio Motors Inc. represents a revolutionary approach to manufacturing an ultra-high-mileage vehicle. The 3-wheeled Elio is engineered to attain a highway mileage rating of 84 mpg while providing the comfort of amenities such as power windows, power door lock and air conditioning, accompanied by the safety of multiple air bags and an aerodynamic, enclosed vehicle body. Elio's first manufacturing site will be in Shreveport, La., with plans for the first production vehicle to roll off the assembly line in 2015 and significant production, sales and distribution during the next two years. For more information, visit http://www.eliomotors.com or http://www.facebook.com/ElioMotors.