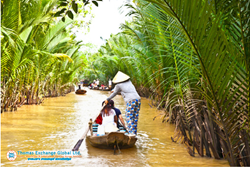 The travel discount of £100 on top of the best travel money deal is a real bargain for long distance travellers to Asia
London, UK (PRWEB UK) 28 July 2014
Thomas Exchange Global has teamed up with See Asia Differently, the Asian tour operator, to offer Asian travel discounts to its customers. For customers travelling to countries in Asia, the company can provide numerous Asian currencies, even those that are hard to find through many high street foreign exchanges.
With the new arrangement between the two companies, Thomas Exchange Global customers can receive a £100 discount when they book a tour with See Asia Differently.
"We offer the best exchange rates for Vietnamese Dong, Thai Baht, Indonesian Rupiah and many other Asian currencies. The travel discount of £100 on top of the best travel money deal is a real bargain for long distance travellers to Asia," stated Trevor Samuel, Marketing Manager at Thomas Exchange Global.
"The customers can claim the discount by visiting our Travel Tips web page. This is an extra service we are offering from our core business to provide our customers with added value and benefits," concluded Trevor.
Thomas Exchange Global is the market leader in travel money, providing over 120 types of foreign bank notes at the most competitive rates in UK. It is one of the few places in the UK to buy not so-common foreign bank notes without a waiting time and at zero commission rates.
See Asia Differently is a family owned travel company specialised in providing travel arrangements to Asian destinations mainly Vietnam, Cambodia, Burma, Indonesia and other popular tourist destinations.
In addition to Asian currencies, US dollars are also available at Thomas Exchange Global in small denominations and mint notes which some travellers need in specific Asian destinations.
About Thomas Exchange Global
As dedicated foreign exchange specialists, Thomas Exchange Global has the professional expertise, in depth market knowledge, technological infrastructure and commitment to provide an unprecedented level of service that sets the standard in the foreign exchange industry. They are specialists in all areas of foreign exchange. They provide commission free currency as well as travellers cheques.
Thomas Exchange Global also offers International Money Transfer Service where funds can be remitted to overseas bank accounts within 1 to 2 days. With commission free service for transfers over £10,000 backed by competitive exchange rates, customers are assured of a better deal and a substantial saving compared to banks and money brokers.
Thomas Exchange Global branches are located at Strand, Victoria Street, Liverpool Street, Hammersmith, Cannon Street and Wormwood Street.
For further details visit http://www.thomasexchangeglobal.co.uk or call 020 7240 1214.