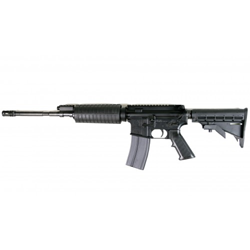 While the industry is seeing reduced prices to combat lagging sales, we have been able to drive our costs down significantly and pass on savings of over 20% to the consumer. -Michael Froning, CEO
Odessa, FL (PRWEB) July 21, 2014
Adams Arms is making piston technology more affordable to everyone and taking the industry by storm with their new, low prices on piston rifles, uppers, and conversion kits. Previously, piston rifles cost on average $1,200-$1,600 and were more expensive than standard direct impingement rifles. Adams Arms has been able to bring their base piston rifle under $1000, now costing just $995. The full line of piston rifles can be found here.
"We are extremely excited to be able to reset the bar from a product cost standpoint while delivering the highest quality products on the market," said Adams Arms CEO Michael Froning, "While the industry is seeing reduced prices to combat lagging sales, we have been able to drive our costs down significantly and pass on savings of over 20% to the consumer."
The firearm manufacturer was able to achieve lower prices because of better manufacturing processes and equipment. They started taking steps to bring manufacturing in house in 2011, and by 2013 had hired key industry leaders and invested in manufacturing assets that together have improved processes and brought 75% of production in house.
With in house manufacturing increasing overall productivity, Adams Arms is able to pass on the savings to customers. These savings allow the company the ability to offer high-quality piston rifles that can compete with lower priced, traditional rifle systems.
The Adams Arms piston system redirects the gas forward, out of the chamber, and away from the shooter and critical moving parts. The system runs cooler and cleaner than a direct impingement system, which increases reliability and longevity of parts, and decreases maintenance time.
Known for their patented Retrofit Kit, Adams Arms strives to bring the most technologically advanced products to market. Their piston system improves performance and minimizes maintenance costs, saving customers both money and time. All Adams Arms products come with a Life-Time Warranty and are made here in the USA. For more information, please visit http://www.adamsarms.net.