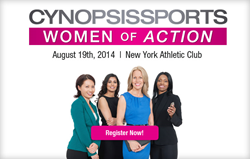 New York, NY (PRWEB) July 18, 2014
Back by popular demand, the second annual Cynopsis Sports Women of Action will be held on Tuesday, August 19, the day before the company's annual Sports Business Summit. The event will consist of stimulating conversation with a dynamic group of women in senior sports positions talking candidly about the challenges that women still face in landing shot-calling, game-changing positions in the sports world, as well as the opportunities those same challenges present.
Some of the most influential names in the industry will share key perspectives on the state of sports, the shifting dynamics of fans, athletes and executives as well as the new ways to engage with audiences. The stellar lineup of speakers confirmed for the event include the likes of Big East Commissioner Val Ackerman, ESPN CFO Christine Driessen, Soccer United Marketing President Kathy Carter, Twitter's Laura Froelich, WWE's Stephanie McMahon, Susan G. Komen founder Nancy Brinker, WNBA President Laurel Richie, USA Gymnastics President Steve Penny, and executives from companies that include AEG, AVP, Fox Sports 1, the USSA, Aquarius Sports & Entertainment, Turner Sports and more. This year's event will also feature on-air talent such as CBS Sports' Tracy Wolfson and Dana Jacobson, ESPN's Sara Walsh and CNN/Turner Sports' Rachel Nichols.
Sponsored by FOX Sports 1, the Women of Action event is being hosted by the premier daily publication for sports executives Cynopsis Sports, and chaired by Chris Pursell, Director of Sports Content and Editor. The half-day event will be held at the New York Athletic Club in New York City and will feature content-rich keynotes and sessions. (For details, go to http://www.cynopsis.com/event/women-of-action/)
For questions regarding attending the event, contact Pete Romas at pete(at)cynopsis(dot)com or go to http://www.cynopsis.com/event/women-of-action/. For sponsorship information, contact Vice President of Sales and Marketing Mike Farina at mike(at)cynopsis(dot)com.
About Cynopsis Media
Cynopsis Media is a division of Access Intelligence LLC. The Cynopsis Media family of products includes Cynopsis, Cynopsis: Digital and Cynopsis: Sports daily e-publications, weekly Cynopsis: Kids and Cynopsis: Classified Advantage e-publications, Special eReports, Event/Summits and a strong database of Classifieds and more. Visit cynopsis.com.
###