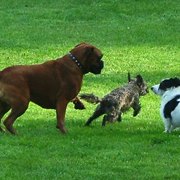 "Manufacturers of pet goods need to work with an established printing company such as Lightning Labels - we can help you print pristine labels that will notify customers of product misuse dangers," said Scott Proctor, VP of Sales at Lightning Labels.
Denver, CO (PRWEB) July 22, 2014
Just as food and medicine packaging can help people maintain their health and prevent the misuse of items, pet product labels serve a similar role in protecting household animals. Lightning Labels, a custom label and sticker printing company, can help manufacturers produce accurate and understandable product labels and packaging.
For many Americans, pets are considered to be family members. People are taking an active role in helping pets stay fit and healthy to ensure long lives. In fact, one study conducted by the American Pet Products Association found not only is pet ownership the highest it's been in approximately 20 years, but pets are also leading much healthier lives due to the proactive behaviors of their owners. Whether a dog, cat, fish, hamster or anything in between, people care about their pets and are committing to exercising responsibility.
Manufacturers of pet products and food can help Americans do this by manufacturing highly descriptive pet packaging and labels. With the right custom labels, companies can ensure people are purchasing the appropriate products for their animals and using them correctly as well.
"Misuse of pet products, whether it's due to customer negligence or because the packaging wasn't clear, can be extremely detrimental to the health of pets," explained Scott Proctor, Vice President of Sales at Lightning Labels. "This is why manufacturers of pet goods need to work with an established printing company such as Lightning Labels - we can help you print pristine labels that will help notify customers of product misuse dangers."
Safety Labels Prevent Accidental Harm
Clear safety labels are a must for any pet product, as it prevents owners from accidentally harming their pets. Many people may not realize that different products may have various effects on pets depending on the size and age of the pet in question and also the type of animal it is. This can lead to potentially dangerous misuse of products.
For example, owners of cats and dogs may purchase flea drops and assume the same product can be used on both animals. However, some flea drops contain ingredients that are detrimental to feline nervous systems, causing adverse (and potentially deadly) reactions. If safety labels exist on both the packaging and the tube or vial, manufacturers may be able to prevent accidental misuse of these products.
When it comes to safety labels, products must contain warnings both on the packaging and the container itself. People may not always keep the packaging, so applying safety labels directly to the product itself is also crucial for preventing misuse.
Nutrition Labels Promote Pet Health
At the same time, nutrition labels are also incredibly important for promoting pet health. Buying the right food for pets ensures they get the nutrients they need, which is pivotal for young, growing pets, as well as mature, older animals. Just as a balanced diet is vital for humans, the same can be said for pets. Nutrition labels allow people to make the right choices when buying food for their pets.
Right now Lightning Labels is offering 10% off label orders plus a chance to win $500 in labels using promo code THANKS14 at checkout. Valid on new and reorders. Maximum discount is $1000. Free ground shipping applies to orders placed online only and shipped within the US & Canada. Enter code at checkout. This offer cannot be combined with other offers or promotions. No purchase necessary. Visit Lightning Labels.com for details.
About Lightning Labels:
Lightning Labels uses state-of-the-art printing technology to provide affordable, full-color custom labels and custom stickers of all shapes and sizes. From small orders for individuals, to the bulk needs of big businesses, Lightning Labels is equipped to handle and fulfill custom label and sticker projects of all types. Best of all, like the name implies, Lightning Labels provides a quick turnaround for every customers' labeling needs. Uses for Lightning Labels' custom product labels and custom stickers include food packaging and organic food labels, wine and beverage labels, bath and body labels, and nutraceutical products, such as vitamins, essentials oils, and herbal remedies, as well as event stickers, adhesive window stickers and more. Lightning Labels strongly supports the development of environmentally friendly printing materials and carries EarthFirst PLA, a new kind of green label material made from corn instead of petroleum. While operating as a high-tech printer, Lighting Labels prides itself on its personalized customer service. Lightning Labels provides one stop shopping for all of your custom label needs. For more information and to place orders online, visit LightningLabels.com. For the latest in packaging news and labeling promotional offers, find Lightning Labels on Twitter (@LightningLabels), Facebook, Pinterest, Google and LinkedIn.