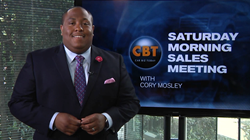 Atlanta, GA (PRWEB) July 19, 2014
CBT News is pleased to announce that Cory Mosley will be a featured presenter of the online news source's Saturday Morning Sales Meeting segment.
Mosley, an entrepreneur, strategist, speaker and author, is a leading authority on internet sales and marketing in the retail automotive industry. He broke barriers as a sales professional in the auto industry when he earned a promotion to manager status in a 26-dealer chain. He was the youngest manager in the company's 20-year history, an accomplishment he repeated at the next company for which he worked.
His new-school techniques and progressive strategies have helped dealers, both large and small, build and restructure profitable sales, BDC and Internet operations.
CBT News' Saturday Morning Sales Meeting airs every Saturday and features the biggest names in automotive sales training.
About CBTNews and Car Biz Today Magazine
CBT News/Car Biz Today is an online news source dedicated to providing the retail automotive industry with news, training and event coverage through various forms of multi-media journalism. The online news source has more than 25,000 subscribers made up of new car dealers and their personnel. CBT News is home to award-winning broadcasters and is headquartered in Atlanta, Ga.
Car Biz Today Magazine originally launched as a bi-monthly publication, reaching more than 17,000 new car franchises in North America. Positive feedback from both readers and advertisers led CBTNews to move the magazine to a monthly format. As with the website and newscast, Car Biz Today Magazine provides informative, upbeat and relevant information for retail automotive executives and their personnel. Learn more at cbtnews.com.