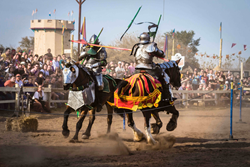 Shakopee, MN (PRWEB) July 18, 2014
It's that time of year again! The 44th Annual Minnesota Renaissance Festival, one of the largest themed events in the country, is right around the corner. Journey back in time as more than 250 merchants contribute to the atmosphere of this charming 16th century village featuring 22 acres of entertainment, shopping, fun and food fit for a king.
The Renaissance Festival will be featuring a number of theme weekends through August and September. The dates for these themes are as follows:

Highland Fling: Aug. 16-17
Buccaneer Beer Fest: Aug. 23-24
A Silk Road: Discover the Riches: Aug. 30-Sept. 1
Passport to Adventure: Sept. 6-7
Wine, Chocolate and Romance: Sept. 13-14
Oktoberfest: Sept. 20-21
Festival Friday: Sept. 26
Shamrocks and Shenanigans: Sept. 27-28
In addition to these weekends, the festival will also be hosting a number of parties, walks, competitions and other fun activities throughout the event.
At Shakespeare's 450th Birthday Celebration, guests can join in and celebrate all things Shakespeare with interactive performances, street entertainment and plenty of fun.
Attend the Fairytale Princess Party and mingle with the Princess Court who will be hosting it. Enjoy a light snack, craft and entertainment with a photo opportunity at the end. This is perfect for children ages 5-12.
At the Minnesota Craft Brew Pub, raise a beer stein in celebration of a new showcased selection of distinctive, locally-brewed craft beer now available at the festival.
On Sept. 7, march through the streets for the Cancer Survivors Walk. Even the King's Royal Guard couldn't hold a candle to these fighters. Celebrate all the survivors with a triumphant walk.
Join Queen Elizabeth and her Royal Court in the Bloomers & Tights 5k Race/Walk through the festival grounds and woodlands. Don't forget to wear bloomers or tights! The race begins at 10 a.m. on Aug. 24 and includes festival admission, a race t-shirt, one free beer or soda and a race bag. Prizes will be awarded for the best bloomers and tights.
Enjoy arts and crafts time with the kids with the all new Kid's Craft Corner. Crafts include pirate hat making, fairy wand making, coloring contests and much more.
Only a true knight will be able to conquer the series of challenges in the Knights Challenge Obstacle Course. Compete against fellow knights in training to try and complete the course.
The Fairy Wing Forest is a garden that has been transformed and filled with fairies, pixies and other magical creatures that now call the forest home. As guests travel the path, they will be transported to a whole other world filled with wonder, whimsy and magic.
A wonder among wonders, few have ever seen the elusive mermaid in her home below the sea. Captain Jonas Fair will recount his tales of finding the beautiful mermaid Ambrosia while patrons marvel at her shimmering hair and scaly tail during daily appearances in the Mermaid Cove.
The Renaissance Festival will run on weekends from Aug. 16 to Sept. 28, plus Labor Day and Friday, Sept. 26. Gates open at 9 a.m. and close at 7 p.m. and will remain open rain or shine. The festival is located seven miles south of Shakopee, MN on Highway 169. Guests will enjoy free parking.
Tickets cost $22.95 for adults, $13.95 for children ages 5-12 and free for children ages 0-4. Advance purchase discount tickets are available at participating Super America, Walgreens and Menards locations. For more information, contact Maren Kiemen, Public Relations, at 952-445-7361 or PR(at)renaissancefest(dot)com.
About the festival:
The Minnesota Renaissance Festival 44th season weekends, August 16- September 28, 2014. Plus Labor Day and Festival Friday, September 26. Journey back in time as more than 250 merchants contribute to the atmosphere of this charming 16th century village. Along with the 16th century feel, the Renaissance Festival has daily jousts, 16 live shows, and 7 themed weekends. We're happy to announce new attractions/events in 2014. A Bloomers & Tights 5k race, a new children's craft area, knight's challenge obstacle course, princess tea party, and Shakespeare's 450th birthday celebration! Follow us @MnRenaissance or check out http://www.Renaissancefest.com to be the first to hear about our exciting 2014 season and see what else is to come.