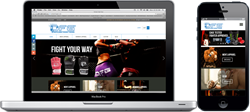 I am looking forward to a long, substantial relationship with Fast Forward
Wayne, NJ (PRWEB) July 24, 2014
With International Fight Week knocking at the door, Outlaw Fight Gear® LLC(OFG), wanted to kick off this year's MMA fight season with a unique, revamped e-commerce website design.
Outlaw MMA fight Gear has been in business since 2012 supplying fight gear and apparel to the Mixed Martial Arts community. Mixed Martial Arts (MMA) is one of the hottest workout experiences on the market today. It has also become an awed spectator sport.
OFG, met with Fast Forward Unlimited, a creative website, graphic design and photography studio located in Wayne, New Jersey, to work with them to revamp their current e-commerce website with fresh graphics and a new design.
The kicker? It was June 2, 2014, and OFG requested the site be completed prior to the kick off of International Fight Week in Las Vegas, Nevada, at the UFC Fan Expo July 5, 2014. Timeframe: 1 month to launch.
Fast Forward Unlimited, with their niche creative team, is always up for a challenge and embraced this opportunity with aplomb and gusto. Always in the ready, Fast Forward not only met but also exceeded OFGs expectations.
The site was launched on July 1, 2014, to rave reviews by the owner, Christian Hoefling, the OFG team, and of course, the MMA fans.
"I am looking forward to a long, substantial relationship with Fast Forward."
About Fast Forward Unlimited: Founded in 1982, Fast Forward Unlimited is a New Jersey-based digital design company servicing clients nationwide. It offers state-of-the-art graphic design, web design, photography, audio/video production, search engine optimization, social media management, blog developments, and infographics. The company prides itself in the ability to respond to clients' needs quickly and effectively for the best possible, practical result. To find out more about Fast Forward Unlimited, visit http://www.fastforwardunlimited.com/.