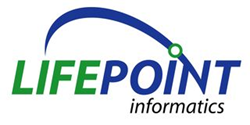 At Lifepoint Informatics, we strive to equip our customers with the technology they need to connect with their patients, compete within their market, and comply with government regulations, so they can focus on what they do best. --William Seay, CEO
Glen Rock, NJ (PRWEB) July 21, 2014
Lifepoint Informatics is empowering labs, hospitals and diagnostic imaging centers to comply with government and state regulations, reduce administrative costs, help promote collaborative care, and improve patient satisfaction and personal health management with the release of a patient access portal.
According to the Federal Register, a final rule which amends the Clinical Laboratory Improvement Amendments of 1988 (CLIA) and the Health Insurance Portability and Accountability Act of 1996 (HIPAA) specifies that by October 4, 2014, "upon the request of a patient (or the patient's personal representative), laboratories subject to CLIA may provide the patient, the patient's personal representative, or a person designated by the patient, as applicable, with copies of completed test reports that, using the laboratory's authentication process, can be identified as belonging to that patient."
"At Lifepoint Informatics, we strive to equip our customers with the technology they need to connect with their patients, compete within their market, and comply with ever-changing government regulations, so they can focus on what they do best," Lifepoint Informatics CEO, William Seay said. "With our patient access portal, our customers not only meet CLIA and HIPAA requirements, but they also can reduce the administrative costs associated with manually compiling and sending patient diagnostic results, and give patients the ability to better manage their own healthcare needs in collaboration with their physicians."
Benefits of the Lifepoint Informatics patient access portal include:
-Can reduce the administrative cost to manually prepare and supply results to patients. (CMS estimates that the cost to manually provide patients results is an average of $5.00 per test.)
-Complies with CLIA and HIPAA requirements, and can be customized for individual State laws
-Supports communication between patients and lab, diagnostic imaging center and hospital
-Creates a patient outreach mechanism for communication via email capabilities
-Encourages patients to be more engaged in their healthcare with 24 hour access to diagnostic results
-HIPAA secure patient authentication achieved using advanced algorithms to match patients' lab and diagnostic test results to their protected health information
Empowering patients and promoting collaborative care
Each patient that signs up for the patient access portal is given a unique "token" for the initial login. The patient can create a personalized login and password to securely access their lab results and diagnostic imaging reports from any internet location and device. An advanced algorithm matches each individuals protected health information to their own medical record.
Patients become more engaged in their own healthcare and with guidance from their physicians, can modify their lifestyle and diet based on their own ability to see and track changes in their health.
"Giving patients the ability to see and track their diagnostic test results, can empower them to be better advocates for their own health," Seay said. "It increases the patient's satisfaction with the lab, diagnostic imaging center or hospital which gave them access to the portal, cutting down on phone calls and administrative time needed to manually send results for each inquiry."
In addition, patients can share the diagnostic results with their physicians and specialists helping to promote care collaboration.
Lifepoint Informatics' mission is to help healthcare providers improve patient care and lower costs through the use of information technology by enabling customers to integrate disparate healthcare information systems, comply with government regulations, and improve the communication, accuracy and flow of clinical information. Lifepoint's solutions can improve the quality of patient care at a reduced cost, achieving positive return on investment.
About Lifepoint Informatics
Lifepoint Informatics is a leader in healthcare IT focusing on laboratory outreach connectivity, health information exchange and clinical data interoperability to help healthcare providers improve patient care and lower costs through the use of information technology. Since 1999, Lifepoint Informatics has enabled more than 200 hospitals, clinical labs and anatomic pathology groups to grow their market share and extend their outreach programs through the deployment of its ONC-ATCB certified Web Provider Portal and its comprehensive portfolio of ready-to-go EMR and EHR interfaces.
For more information, please visit http://www.lifepoint.com.