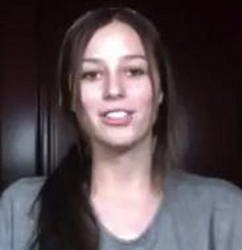 (PRWEB) July 20, 2014
Paige starts off this easy beginner acoustic guitar lesson by briefly performing the song so you can hear what it sounds like. Paige says that to be in the same key as the original song you need to use a capo on the fourth fret. Paige starts off by going over the chords used in the verse as follows: C, Am (A minor) and F, all strummed as down strokes with four beats for C and Am and eight beats for F. Next Zollars goes over the chords for the pre chorus as follows; G, Am and F played as whole notes. Next is the chorus and Paige says the chords are; C, Am and F and it is performed similar to the verse, except with a slightly more complex strumming pattern which Zollars demonstrates so that you can easily follow along with her. Finally Paige demonstrates the Bridge as follows; Am, F, C, Em (E minor), Dm (D minor) and G and is strummed the same as the Pre Chorus. Complete chord charts and guitar TAB's are available at SongTabs.com.
A Capo, short for capotasto, which is Italian for "head of fret board", is a device used on the neck of a fretted instrument to shorten the playable length and raise the pitch.
The All American Rejects are an American rock band formed in 1999 in Stillwater Oklahoma. The band achieved commercial success with their debut album in 2003 that was certified Platinum. Over the course of their career they have released 4 studio albums and have sold over 10 million albums world wide and have received numerous awards including MTV Music Awards and Teen Choice Awards.
Paige Zollars
Has been a singer and song writer for the last 6 years and performs at fairs and coffee shops in her area. She has an original song "Broken" available on ITunes and works for a company called KlabLab where she makes educational songs for the classroom.
About SongTabs.com
SongTabs.com is a great online resource for learning to easily play your favorite songs on the guitar. With several great instructors and a constant growing catalog of songs, everyone can learn to play there favorite songs.