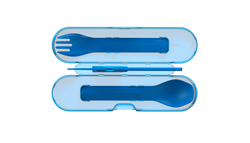 We think [GoBites] will find a home with ultra-light backpackers, people craving simplicity, the space-conscious, and those on a budget. – Chris Miksovsky, Founder of humangear
Elk Grove Village, IL (PRWEB) August 01, 2014
After two years of development, humangear® has released their long-awaited GoBites™, a line of 100% PC-, phthalate-, and BPA-free portable utensils, made with super strong nylon, and available as an Uno, Duo, or Trio version.
humangear's product development team decided to create the perfect set of flatware after seeing that similar products on the market didn't live up to expectations.
According to Chris Miksovsky, Founder of humangear, "GoBites is our take on what portable utensils should be. With our Uno, we've evolved the tool in notable ways, creating 'splitter' tines with tapered edges to cleave large pieces of food, a contoured spoon to make scraping easier, and fork tines long enough to twirl noodles."
In addition to these features, the Duo version also has an easy-to-clean locking feature that lets the utensils snap together to create compact storage when nested and is then able to reach into deep containers when connected.
The Trio includes a knife with serrations sharp enough to cut into a piece of chicken and an embedded metal bottle opener. Miksovsky also added, "We spent months creating the most compact nesting of the tools possible to form a case size that seems impossibly thin."
The GoBites Uno, Duo, and Trio will be available through L.C. Industries, Inc.™ starting in August.
About L.C. Industries, Inc.
L.C. Industries, Inc. began with the manufacturing of luggage caddies in 1971. Since then, it has expanded to offer over 500 products in categories, such as security, comfort, convenience, and health. L.C. Industries, Inc. owns several internal brands, including Lewis N. Clark®, Belle Hop®, and Li'l Lewis®. For more information, visit http://www.lcibrands.com.
About humangear, inc.
humangear was founded in 2007 with a mission to develop "real gear for real humans." In addition to GoBites, humangear also sells GoToobs®, GoTubbs®, GoCups™, and capCAPs™, which are all widely used for travel and outdoor adventures. For more information, visit http://www.humangear.com.