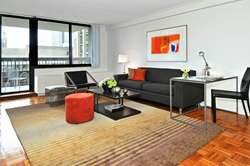 New York, NY (PRWEB) July 22, 2014
Furnished Quarters, the largest provider of temporary furnished apartments in New York City and Boston, today announced the growth rate for its apartments in markets outside of Manhattan has increased by 39% from July 2013 to July 2014. These markets include New Jersey (Jersey City and Hoboken), New York (White Plains), Massachusetts (Boston and Cambridge), and Connecticut (Stamford).
"As the top provider in Manhattan for furnished apartments, Furnished Quarters recently took on the charge of growing our other Northeastern markets, adding a significant number of apartments and new buildings to our portfolio," said Steve Brown, CEO of Furnished Quarters. "Year-over-year figures show that we've been very successful in this mission. We will continue to add to our presence in these markets—as well as in New York City—to meet the increased demand for apartments in our locations."
One of the new buildings added in the first half of 2014 is The Verano in Stamford, CT, for which Furnished Quarters is the exclusive corporate housing provider. The building comes complete with upscale amenities including a fitness center, indoor resident lounge, outdoor lounge with teak chairs and gas grills, and a personal screening room. For the interiors, Furnished Quarters' in-house design team provides an urban contemporary look in gray with accents of pistachio.
In Boston, Furnished Quarters added residences in Radian, a 26-story glass tower near the Financial District. This follows the recent availability of newly converted apartments at the historic landmark building, The Arlington, and also at Exeter Towers—both in Boston's Back Bay. Another new building in the company's portfolio is 18 Park in Jersey City, which features views of the Manhattan skyline from its state-of-the-art apartments.
The current growth numbers build on an upward trend for Furnished Quarters. In 2013, the company also experienced rapid growth, significantly increasing its total number of apartments and expanding its sales and executive teams. Furnished Quarters continues to expand its extensive roster of short-term rentals in Manhattan as well, adding offerings in The Capri, Avalon Midtown West, La Premiere, and Stonehenge 65 buildings.
About Furnished Quarters
Furnished Quarters is an independently owned and operated provider of stylishly designed and fully equipped temporary furnished apartment rentals, both nationally and globally, and the largest provider of temporary furnished housing in New York City, Boston, and Cambridge. Furnished Quarters also provides a diverse portfolio of temporary furnished apartments in New Jersey, White Plains, and Connecticut. Established in 1998, Furnished Quarters is a founding member of GO Furnished Housing Providers, a consortium of best-in-class temporary housing companies offering one-call access to apartments worldwide. For more information visit http://www.furnishedquarters.com.