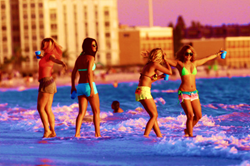 People should jump on the free offer now to avoid the $99 fee.
San Diego, CA (PRWEB) July 22, 2014
Envy Social Club, a travel club where members can earn free travel, announced an offer designed to attract its first members. The club is waiving the normal $99 joining fee and rewarding initial members with lifetime memberships at no cost. These initial members will allow the club to complete testing and fine tuning of its website and processes. Once the travel club officially launches, members can earn travel rewards by referring new friends to the club. Travel rewards are earned in the form of airline and hotel credits for use at a partner travel agency.
While Envy Social Club's main attraction is the ability for members to earn free travel; membership also includes access to its online social network. Members can mingle with other members via messaging, photo sharing, message boards, blogs, and more. The social network's focus is exclusively on leisure travel, so members can engage in discussion around past, present, and future vacations, plus share vacation tips and recommendations. The travel club will also host a 'members only' annual group vacation to destinations like Hawaii, The Caribbean, and Mexico.
The offer allows interested travel lovers to join Envy Social Club for free. When the offer expires, initial members will keep their membership for the life of the club, while members joining after the offer expires will pay a $99 joining fee. Club representative Lee Johnson explains, "People should jump on the offer now to avoid the $99 fee". The only catch is that members can't start earning travel rewards until the club officially launches later this year, but it should be well worth the wait.
Envy Social Club is designed to go viral as word of mouth spreads through travel news and social media. To take advantage of the travel club's membership offer at no cost, visit Envy Social Club at http://www.envysocialclub.com/free-member-offer.