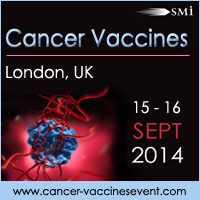 "We hope to reach out to cancer vaccine developers aiming at helping with elucidating the tumor-specific responses elicited by their therapeutic approach" Immudex
London, UK (PRWEB UK) 22 July 2014
With cancer vaccines known to earn higher profits owing to the nature of the disease and the urgency in the demand, SMi's 3rd annual Cancer Vaccines conference comes at the perfect time to explore the latest developments oncolytic vaccines, T cell immune monitoring, cancer immunotherapy, biomarker guided development, plus much more.
The conference will take place on 15th and 16th September 2014 at the Holiday Inn Regents Hotel, London UK. It will aim to provide attendees with:

A review of the latest developments of oncolytic vaccines for the treatment of cancer and an assessment of vaccine delivery through insights from Oncology International Therapeutic Head at Amgen, Tom Lillie
An understanding of the proactive issue of tumour genomic heterogeneity in immunotherapy in a post conference interactive workshop hosted by cancer vaccine company, Vaccinogen
A detailed assessment of techniques involved in removing patient T cells and inserting new genetic material to enable the T cells to attack and kill cancer cells.
A discussion of novel antigens for cancer immunotherapy using high-throughput mass screening.
Clinical data from a trial of oncolytic immunotherapy to demonstrate activity in melanoma
Regulatory direction by discussing current requirements for approval and clinical trial design in the closing panel debate.
Key Speakers include:

Joseph Melenhorst, Director of the Product Development & Correlative Sciences laboratory, University Of Pennsylvania
Tom Lillie, Therapeutic Area Head, Oncology, Amgen Ltd
Alex Karlsson-Parra, CSO, Immunicum AB
Harpreet Singh, Managing Director, Founder and CSO, Immatics Biotechnologies GmbH
Christian Ottensmeier, Professor in Experimental Cancer Medicine, University Of Southampton
Madiha Derouazi, CEO, Amal Therapeutics
Eric Leire, CEO, DanDrit Biotech
For further details and to download a brochure, visit the event website http://www.cancer-vaccinesevent.com
Cancer Vaccines
15-16 September 2014
Holiday Inn Regents Park Hotel, London UK
Source: * http://bit.ly/1qGWtSZ
---END---
About SMi Group:
Established since 1993, the SMi Group is a global event-production company that specializes in Business-to-Business Conferences, Workshops, Masterclasses and online Communities. We create and deliver events in the Defence, Security, Energy, Utilities, Finance and Pharmaceutical industries. We pride ourselves on having access to the world?s most forward thinking opinion leaders and visionaries, allowing us to bring our communities together to Learn, Engage, Share and Network. We hold events in over 30 major cities throughout the world including London, Paris and Singapore and to date have welcomed over 200,000 participants from 80 countries.
More information can be found at http://www.smi-online.co.uk.