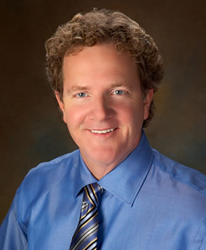 St. Petersburg, FL (PRWEB) July 18, 2014
Dr. Bruce M. Crawford, periodontist in St. Petersburg, FL, offers his patients an innovative gum recession treatment. The Pinhole Surgical Technique (PST™) allows Dr. Crawford to treat recession without the unpleasant side effects of traditional surgery. Patients receiving PST™ heal faster, enjoy high success rates, and notice instant improvement. Following treatment, those who undergo this procedure enjoy more confidence and healthier mouths.
Prior to performing PST™, Dr. Crawford numbs his patients to make the treatment painless. He then creates a very small opening in the gums near areas of recession. Using specialized instruments, he works through this opening to disconnect the gum tissue from its receded position. He then gently moves the gum tissue so it covers a healthy amount of the tooth. Dr. Crawford performs this procedure without disturbing the surrounding gums, so only the area in need is affected. Unlike traditional gum recession treatment, almost no bleeding occurs, and patients experience only nominal swelling and discomfort during the healing process. PST™ spares patients cutting, grafts, and stitches. Because of the ease of treatment and the reduced side effects, patients return to their daily activities without interruption beyond the time they spend in the chair.
Traditional gum surgery affects a much larger portion of the mouth, especially when grafts are taken from the roof of the mouth. The surgical wounds require stitches, and they take significantly more time to heal. As an experienced periodontist in St. Petersburg, FL, Dr. Crawford is pleased to perform PST™ because of its high success rates and minimal side effects. Treatment requires very little disruption of the gum tissues. By avoiding grafts and using only a small entry point, Dr. Crawford reduces the risk of infection and eliminates the risk of failed grafts. Exposed root surfaces are covered which reduces the incidence of decay and damage to these vulnerable areas. After feeling embarrassed by recession problems, patients enjoy the confidence they feel when they show off their beautiful smiles following gum recession treatment.
Dr. Crawford encourages anyone who is seeking a periodontist in St. Petersburg, FL, or who would simply like to learn more about PST™, to contact him. People may visit his website, take advantage of his online appointment scheduler, or call his office directly.
About the Doctor
Dr. Bruce Crawford is a Periodontist offering personalized dental care for patients in St. Petersburg, FL. Dr. Crawford has specialized in treating gum disease and dental implants for over 20 years. He has been a clinical professor at the University of Florida for over 15 years and enjoys helping patients improve their health. To learn more about the services Dr. Crawford provides visit his website at http://www.brucecrawford.net/index.php or call (727) 897-5331.