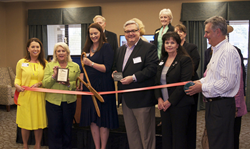 Fort Worth, TX (PRWEB) July 18, 2014
Silverado Memory Care Community in Fort Worth, Texas celebrated its grand opening on July 17 with a ribbon-cutting moment that included Silverado residents and their families. The new community, which broke ground in December 2012, already serves more than 20 people with memory impairments in it's first weeks of operation and will serve as many as 90 residents when at capacity.
"With more than 17 years of experience in memory care, it's a privilege for us to provide life-enriching care to the residents of Silverado Fort Worth," shares Silverado President, Chairman and CEO Loren Shook. "With every grand opening, we get the opportunity to positively impact more lives and in doing so, give peace of mind to loved ones' families."
The peace of mind that Silverado provides to families often comes after the emotional impact of caring for a loved one with dementia. That was the case for the daughter of 98-year-old Silverado resident, Margaret Palmer.
"It was incredibly stressful to be a 24-hour caregiver for my mom after she was diagnosed with late onset, moderate Alzheimer's, and I often felt so overwhelmed," shares Palmer's daughter Charlotte. "When I first walked into Silverado, I instantly felt peace in knowing that my role could change from primary caregiver to primary advocate for my mother."
The Silverado team includes 24-hour licensed nurses, a medical director and a staff with proven expertise in memory care, creating an environment that truly enhances quality of life for those with memory impairing diseases. Built from the ground up by Silverado, this community features a variety of progressive design elements:

Innovations, such as memory boxes, help loved ones regain confidence; each resident is given a memory box that families fill with keepsakes to showcase the identity of their loved one and to help them independently find their room.
A community playground encourages positive inter-generational interaction when families and associates bring their children to play.
Residents experience freedom and feel success again with access to expansive and secure outside spaces, engaging music programs, cooking clubs, gardening, art and more.
The community caters to people at any stage of a memory-impairing disease through different "neighborhoods" that address residents' specific needs, abilities and interests.
Silverado's Fort Worth community will contribute 90 local jobs when at full capacity. The community is located at 7001 Bryant Irvin Road, Fort Worth, TX 76132. Learn more at silveradocare.com/fortworth.
###
About Silverado
Silverado was founded in 1996 with the goal of enriching lives of those with memory loss by changing how the world cares for the memory impaired and perceives the cultural stigma of cognitive decline. Silverado has grown to become a nationally recognized provider of home care, memory care assisted living and hospice services. With locations in eight states – including Arizona, California, Colorado, Illinois, Texas, Utah, Washington and Wisconsin – the company delivers exceptional care and unmatched service to address the spectrum of changing needs, for individuals and families alike. To learn more about Silverado, please visit silveradocare.com or call (866) 522-8125.
Media Contact:
David Gill
(714) 624-2550
dgill(at)silveradocare(dot)com