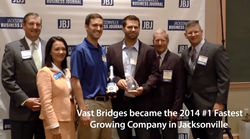 'I'm extremely proud of our innovative, fun culture and the exceptional talent that we have at Vast Bridges.' - CEO Kevin Conner
Jacksonville,FL (PRWEB) July 18, 2014
Vast Bridges is pleased to announce it has been selected as the fastest growing company in northeast Florida for 2014 by the Jacksonville Business Journal. The Journal, a comprehensive business publication, held an awards luncheon, sponsored in part by Brumos Motors, on Thursday, July 17th at the Hyatt Regency where it honored the 50 fastest growing companies in northeast Florida.
To qualify, a company must have been privately-owned, for-profit and had at least $1 million in gross revenue in 2013. Vast Bridges finished at the top of this list with an average revenue growth rate of 555.17% from 2011 to 2013, as verified by the independent accounting firm Ennis, Pellum & Associates CPAs.
"I'm extremely proud of our innovative, fun culture and the exceptional talent that we have at Vast Bridges," said Founder and CEO Kevin Conner. "They really deserve to be recognized and awarded like this for the fantastic energy and genius they bring in to produce incredible results every day. We look forward to continued phenomenal growth."
About Vast Bridges
Vast Bridges, also recently recognized as a Best Place to Work by the Jacksonville Business Journal, is a marketing, sales and technology company located in Jacksonville, Florida. A startup in 2011, the company has quickly grown to 35 employees and operates in the internet, TV and home security markets.