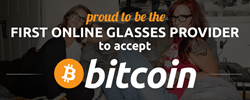 (PRWEB) July 22, 2014
The founders of Swift Eyewear Inc., Joseph Ianni and Pierre Brousseau, are very excited to announce that it will become the first global eyewear company to accept Bitcoin payments. Swift will use Blockchain.Info's US dollar market exchange price feed to instantaneously convert prices to Bitcoins for each purchase.
Bitcoin is a non-regulated digital currency that buyers and sellers exchange over the Internet without bank involvement. Its fast rising popularity and low or no service fees make Bitcoins a welcome fit to the existing Visa, MasterCard, Amex and debit payment methods accepted on the firm's website. Bitcoin payments will be accepted across the company's brands. The growing list of companies that accept bitcoin payments includes Overstock.com, Lord & Taylor, 1-800-Flowers.com and Dish Network.
"Many of our clients are quite fanatical about Bitcoins and we are showing them that we are listening," says Joseph Ianni, CEO of Swift Eyewear.
About Swift Eyewear, Inc.
Swift Eyewear is an online provider of prescription and non-prescription glasses, sunglasses and contact lenses whose mission is to help students by funding bursaries and providing free eyewear through the "Eyeglasses for Education" program. With customers throughout the world, Swift provides low cost eyewear solutions combined with technological innovation to better service its clients.