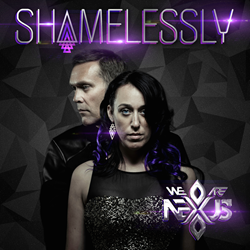 "Shamelessly" continues to turn heads as it breaks out in the #3 position on Billboard's Dance Club Chart the week of August 2, 2014
Chicago, IL (PRWEB) July 21, 2014
In the first week of its official release, Chicago based EDM duo (We Are) Nexus' new track "Shamelessly" continues to turn heads as it breaks out in the #3 position on Billboard's Dance Club Chart the week of August 2, 2014.
While relatively new to the EDM scene, the duo are amassing accolades one would expect of a more seasoned EDM act. The list of accomplishments on their freshman outing in August 2013 was impressive, including a #1 Breakout position on Billboards Dance Club Songs, a peak position of #14 on Billboards Dance Club Songs, and positions on both iTunes Top 100 Dance and Billboards Top 50 Dance/Electronic Songs.
Their recent follow up single this past January, "World Around Me," also made the iTunes top 100 Dance and once again graced the Billboard Dance Club Songs chart.
No stranger to the music business, Nexus producer and composer Nick Gunn comes with an impressive resumé that expands multiple musical genres and roles as both a classically trained musician and producer.
Having produced multiple world music albums selling over two million units worldwide, Gunn today finds himself as the producing and composing force behind the (We Are) Nexus sound. "We are ecstatic that "Shamelessly" has received a breakout position on Billboard as it's such a different track with it's 3/4 meter and classical leanings" says Gunn.
Carmen Rainier, the other half of the duo, has been sinking her teeth into Gunn's productions with an approach to intelligent and clever lyric writing. "Carmen's style and provocative approach is the mortar to what we do" says Gunn.
Rainier also handles a tremendous amount of the business affairs behind (We Are) Nexus. With their studio and office located in Chicago's famed West Loop, Rainier finds herself at the helm controlling everything from distribution to social media and how the world experiences Nexus.
"It's quite empowering to be in control of your own destiny" says Rainier. "I have been in the business for a few years now and have learned so much on how to become a successful music act in the business. It's more than you can imagine, it's a lot of hard work!"
In the coming weeks Nexus' fingers will certainly be crossed as they closely watch the performance of "Shamelessly" as it climbs the Billboard Dance Club Songs Chart. With remixes from Dave Audé, Papercha$er, Kirk Cosier and Your EDM remix contest winner Kaleptik, there's a bevy of great content to choose from.
There's even rumors there's a follow up single coming right around the corner! Goes to show you that EDM has a hard working duo intent on success in what is considered the worlds fastest growing music genre.
Get the entire "Shamelessly" EP including all of the remixes at iTunes, Beatport, Amazon, or wherever music is sold.
Join the Nexus Nation and be a part of the Nexus community which includes winning amazing merch and prizes at: http://www.wearenexusedm.com/nexusnation.
Stay up to date with everything (We Are) Nexus by following them on Facebook.com/wearenexusofficialpage, Twitter @wearenexusedm and SoundCloud.com/we-are-nexus-edm.