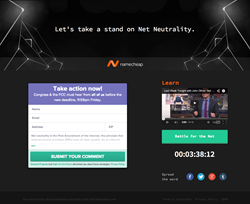 We have a moral responsibility to do everything we can as a company to defend the free and open Internet, ensuring that every single one of our customers can make their voice heard. - Richard Kirkendall, Namecheap's CEO and Founder
New York, NY (PRWEB) July 18, 2014
With 12 hours to go before the new deadline that closes the first round of comments in the FCC's net neutrality proceeding, leading domain registrar Namecheap swooped in to strike hard on the side of an open Internet by launching NetNeutrality.com, an action site encouraging Internet users to continue bombarding the FCC with comments in support of Title II reclassification to protect the Internet in the public interest.
The FCC extended the original Wednesday comment deadline after various grassroots advocacy efforts like Fight for the Future's BattleForTheNet.com action site flooded the FCC site with comments, causing it to go offline. As of Thursday July 17th, the FCC has received 1,030,000 comments, according to Gigi Sohn, Special Counsel for External Affairs for the FCC.
"Over one million people depend on Namecheap to power their websites," said Richard Kirkendall, Namecheap's CEO and Founder, "We have a moral responsibility to do everything we can as a company to defend the free and open Internet, ensuring that every single one of our customers can make their voice heard."
"This is a crucial moment where we need every single voice raised demanding real net neutrality through Title II reclassification," said Evan Greer, Campaign Manager at Fight for the Future. "Net neutrality is the free speech fight of our generation. It's great to see so many voices, from huge sites to tiny blogs lining up to stand on Team Internet against any form of censorship online."
###
Namecheap is a Los Angeles-based ICANN accredited domain registrar, founded in 2000 by CEO Richard Kirkendall. With over 1,000,000 customers and millions of domain names under management, Namecheap is one of the largest domain registrars in the world. Find out more by visiting us at http://www.namecheap.com.