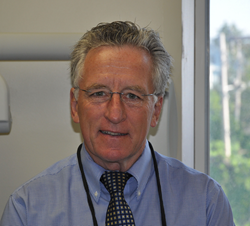 Quincy, MA (PRWEB) July 21, 2014
Dr. Thomas Mone performs laser gum surgery using the LANAP® protocol at his office in the greater Quincy area. As a periodontist, Dr. Mone is a dentist who specializes in gum disease, and he serves patients in his office near Quincy. His specialty training and experience give him the ability to offer the best treatment possible for those suffering with gum disease. He is excited about the opportunity that the LANAP® protocol gives patients to save teeth that traditionally could not be saved.
Periodontists receive two to three more years of training than general dentists do, making them better qualified to perform gum disease treatment. Dr. Mone uses his training and expertise to give patients the best chance of saving their teeth. In many cases of gum disease, he recommends the LANAP® protocol with a PerioLase® MVP-7™ laser. This laser gum surgery is a safe and effective substitute for traditional surgery. No cutting or stitches are necessary, and patients experience only nominal discomfort following treatment. In addition to being more pleasant for patients, the LANAP® protocol has excellent success rates, and is quickly becoming the new standard in periodontic practice.
The LANAP® protocol is effective in treating periodontal pockets. These pockets are spaces between the gums and the roots of teeth. Healthy gums attach to teeth one to two millimeters past the gum line, leaving a small pocket. When plaque and bacteria work their way into this pocket, they cause the gums to pull further away than is healthy. Over time, pockets grow increasingly deep, and eventually the bacterial infection spreads into the bone. Left untreated, the problem worsens until the affected teeth loosen in their sockets. Even though the condition is initially painless, it causes severe pain in later stages, until it drives patients to seek a dentist near Quincy for extraction of the involved teeth. Laser gum surgery stops periodontal pockets from deepening, and it even returns them to a healthy level.
Anyone interested in additional information about the LANAP® protocol, or who needs a dentist near Quincy for gum disease treatment, is encouraged to visit Dr. Mone's website, or call his office. Dr. Mone believes in the importance of education, and he is happy to provide no-obligation consultations.
About the Doctor
Mone Periodontics is a periodontal practice offering personalized dental care for patients in Braintree, MA. The leading periodontist at the practice, Dr. Thomas Mone, graduated from the University of Massachusetts with a bachelor's degree, and then went on to attend the University Of Pennsylvania School Of Dental Medicine and graduated at the top of his class. He completed his periodontal training at Boston University Goldman School of Graduate Dentistry. Dr. Mone is part of one percent of dental professionals providing the LANAP® protocol, an FDA cleared laser procedure for gum disease and periodontal treatment. To learn more about Mone Periodontics and their dental services visit their website at http://www.braintreeperio.com and call (781) 348-9925.