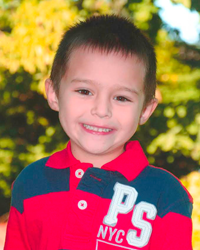 Fairfield CT (PRWEB) July 18, 2014
Have you ever dreamed of owning your own toy store? For Lucas Baptista, age 6, of Fairfield, CT, his dream is a reality as he "won" the Giant Steps Toy Store in a charity auction to benefit the North Stratfield Elementary School PTA.
As part of the auction, one lucky winner won their own toy store for a night with up to 3 friends. As store manager, Lucas will lead his team in working the cash register, helping customers, and building displays. In addition, the evening will be laced with lots of fun activities, including their own private pizza party, and $250 in Giant Steps Toy Store Gift cards that they can go that night on a private shopping spree with owner Howard Greenspan. "I work for them tonight," chuckles Howard. "Hopefully they don't ask me how to use the gift card refill machine, because I have no choice but to oblige."
The evening will be capped by a private showing of Kung Fu Panda, Teenage Mutant Ninja Turtles, or Tinker Bell at the managers discretion. We know what Lucas will not be choosing to watch when he is the manager.
Lucas enjoys all sports, including playing on the Giant Steps Little League baseball Team. He is enjoying his summer and ready to start 1st Grade in the fall.
Giant Steps Toys is located at 226 Kings Highway East in Fairfield and just celebrated its four year anniversary.