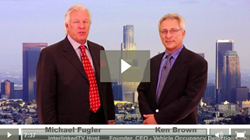 (PRWEB) August 28, 2014
Vehicle Occupancy Detection Corp. (VODC) was one of the presenting companies interviewed at the recent FSXinterlinked Investment Conference, held at the Four Seasons, Westlake Village, California.
Vehicle Occupancy Detection Corp. (VODC) has the only known patent-pending technology that can count people in moving vehicles through automotive glass and can distinguish humans from pets, dolls and photos in all types of weather without the use of visible light.
VODC has completed formal testing at Caltrans in Southern California who has expressed a need for approximately 4,000 units.
During the event, FSXinterlinked host, Michael Fugler, expert and speaker on entrepreneurship, interviewed Ken Brown, VODC Founder and CEO.
"Michael is an expert at asking just the right questions to get the simplest, most informative descriptions of what our presenting companies do and who these entrepreneurs are." stated Mr. Delray Wannemacher,FSXinterlinked President.
During the interview, Mr. Brown gave an overview of the Company, discussed the Reg D 506c offering VODC currently has and announced their new CEO, Allan Allegretto.
Mr. Brown stated "Xerox's former group president of their state and government transportation division [Allan Allegrato] gave me a call and said that he wanted to work with us. He is probably one of the most well respected men in the industry and of course I took him up on that."
VOD's technology is considered so disruptive that Cisco Systems' CEO, John Chambers, featured it in his opening address at Oracle Open World 2011. You can watch his 3-minute presentation on VODC's website.
"This is a technology that has, according to the chair of the transportation lab at Cal Poly, defied other researches in the field for over 30 years because you can't use the visible end of the spectrum, you can't use infrared. So we had to come up with a very novel approach; looking at the absorptive qualities of the red blood cells," added Mr. Brown.
Statistics show that 85% of taxpayers prefer a toll based on the number of occupants in the car, average speed of traffic, and distance travelled as it is the fairest way to pay for our infrastructure.
Management seeks to raise enough to fund the production engineering of VODC's high-speed unit in its final-round investment. Mr. Fugler encourages investors to view all of VODC's SEC filings and to visit their Public Profile on Interlinked.com to obtain more information on the Reg D 506c offering.
The complete exclusive interview is available only on the FSXinterlinked channel on InterlinkedTV.
More information is available at VOD's Public Profile on Interlinked.com and at their website.
__________________________________________________________________________________
About FSXinterlinked Investment Conference
FSXinterlinked is the premier investment conference organization in the United States. Founded as Financial Services Exchange (FSX) in 1983, it is one of the longest standing and most trusted investment conferences in the country for Broker Dealers and financial professionals. For more information about our organization, please visit FSXinterlinked.com.
About Interlinked
Interlinked is a global investment community of investors, emerging growth companies, and resource partners. Interlinked offers an efficient way for companies to maximize exposure and access a private network of funding sources and verified service providers. For investors, Interlinked provides a secure environment to find, vet and engage companies, and communicate with members. Interlinked gives members exclusive access to a proprietary investment platform, which integrates virtual data rooms, video news, a service provider marketplace, an event directory, and customized marketing services, including email marketing, video production, public relations and more. For more information, visit: http://www.interlinked.com/.
Safe Harbor Statement
This press release may contain information that constitutes forward-looking statements made pursuant to the safe harbor provisions of the Private Securities Litigation Reform Act of 1995. All statements, trends, analysis, and other information contained in this press release, including words such as "anticipate," "believe," "plan," "estimate," "expect," "intend," and other similar expressions of opinion, constitute forward-looking statements. Any such forward-looking statements involve risks and uncertainties that could cause actual results to differ materially from any future results described within the forward-looking statements. Risk factors that could contribute to such differences include those matters more fully disclosed in the Company's reports filed with the Securities and Exchange Commission. The forward-looking information provided herein represents the Company's estimates as of the date of the press release, and subsequent events and developments may cause the Company's estimates to change. The Company specifically disclaims any obligation to update the forward-looking information in the future. Therefore, this forward-looking information should not be relied upon as representing the Company's estimates of its future financial performance as of any date subsequent to the date of this press release.