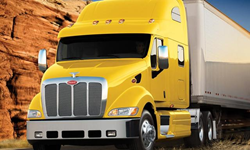 Costa Mesa, CA (PRWEB) July 18, 2014
The Costa Mesa movers, 24-7 Van Lines, recently announced their plans to roll out a new initiative that will not only positively impact their internal and external customers, but also the environment. The new plans involve transitioning to greener forms of communication, document processing, filing, and vehicle technology. With their recent addition of online and electronic services, it's clear that the Costa Mesa movers are serious about providing quality services to their customers, while also having a positive impact in their community and the environment.
One aspect of the new program is to re-fit all service vehicles with low rolling resistance tires. These tires are specifically designed to waste less energy in the form of heat, with the potential to save hundreds of gallons of gas when compared to other tires. Tire manufactures have worked diligently in recent years to design eco-friendly tires that have the least possible effect on the environment. Transitioning to these tires is a big step for the company, and shows their selfless commitment to making positive changes.
Another aspect of the green initiative involves the company's website and format. Customers will soon be able to live chat with representatives from the Costa Mesa movers at any time. The representatives will be able to answer questions about the company, provide easy to understand and straightforward price quotes, as well as offer any insight into the best and easiest ways to complete the moving process. By doing this, paper communications will be reduced and customers will have easier access to office personnel who can answer their questions and provide helpful advice.
A spokesman for the company recently spoke about the new plan to provide quality moving services in an eco-friendly way: "We're very happy to have the opportunity to serve our community as well as our customers, and reduce our environmental footprint by rolling out this new green initiative. It's obviously a very important issue, and something that responsible companies should be thinking about. We have the opportunity to do the right thing, and that's exactly what we're going to do."
More information on the Costa Mesa movers can be found on their website, http://www.247vanlines.com or by calling them at 877-549-2077.