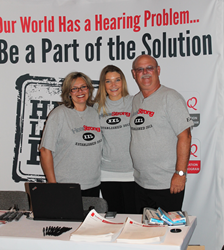 ...we hope to raise awareness for hearing loss and its appropriate solutions and inspire the four in five Americans with hearing difficulties who still have not decided to take control of their hearing health
Syracuse, NY (PRWEB) July 23, 2014
On July 19 and 20, the HearStrong Foundation promoted hearing health awareness at the NBC 4 New York and New York Giants Health & Fitness Expo 2014 at MetLife Stadium in East Rutherford, NJ.
The team, which included several hearing healthcare providers affiliated with EarQ, HearStrong's main sponsor, offered free hearing health screenings and answered any questions that attendees had about their hearing health or today's advanced hearing technology.
Also sponsored by the NFL Players Association, HearStrong was proud to join the Giants and participate in such an enriching community event.
"It is truly inspiring to see the passion and energy provided by NBC 4 New York, the New York Giants, and the audiologists who volunteered their time and expertise to provide such wonderful services," said Clifford Carey, communications director of EarQ. "With these types of partnerships, we hope to raise awareness for hearing loss and its appropriate solutions and to inspire the four in five Americans with hearing difficulties who still have not decided to take control of their hearing health."
About HearStrong:
The HearStrong Foundation strives to recognize the accomplishments of those who have overcome hearing loss and live their lives to the fullest. Headquartered in Syracuse, NY, the foundation is a world-wide advocate for hearing loss awareness, education and support. For more information about the foundation, or to nominate a HearStrong Champion, please contact:
info(at)hearstrong(dot)org
Like us on Facebook
Follow us on Twitter
About EarQ:
A strategy and consulting firm that supports hearing healthcare providers nationwide, EarQ utilizes innovative business and marketing practices, national public awareness efforts and advocates for excellence in private patient care. Through its 1,400 hearing healthcare provider locations nationwide, EarQ will help provide greater access to quality hearing healthcare services and products.
http://www.earq.com
Like us on Facebook
Follow us on Twitter