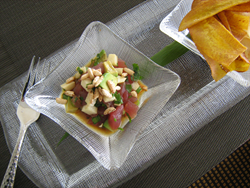 (PRWEB) July 20, 2014
Chef de Cuisine Steve Wan presents an a la carte Ceviche Tasting Menu at The Ritz-Carlton, Laguna Niguel from September 1 through September 30, 2014. Drawing inspiration from the rich and flavorful regions of Mexico, Peru and Asia, his tasting menu features tuna, rock shrimp, sea bass and scallops, and highlights such ingredients as coconut, sweet chili, candied yam and crispy jicama. The Ceviche Tasting Menu is offered in RAYA, Bar Raya and 180blu, the resort's outdoor oceanfront lounge.
The a la carte tasting menu includes:

Asian-style Ahi Tuna Ceviche
Raya's Pan-Latin Rock Shrimp Ceviche
Mixto Ceviche, a Peruvian classic
Central American-style Sea Bass Ceviche
Mexican-style Baja Scallop Ceviche
In Peru, ceviche has been declared to be part of Peru's national heritage and has even had a holiday declared in its honor. In Mexico and some parts Central America, ceviche is served either in cocktail cups with tostadas, salted crackers, or as a tostada topping and taco filling. Shrimp, octopus, squid, tuna, and mackerel are popular bases for Mexican ceviche. Typically, the marinade ingredients include salt, lime, onion, chili peppers, and avocado. Ceviche usually features Latin American flavors, but Chef Wan has created an Asian-style ceviche by adding a few Asian ingredients such as yuzu, white soy and ponzu.
The resort's resident mixologist, Erin Snider, created several signature cocktails to complement Chef Wan's ceviche selections. The hand-crafted cocktails include:

Saki Cocktail – a perfect combination of refreshing flavors of mint and ginger, with lingering flavors of the Sake and pear
Caipirinha – a back-to-basics cocktail made with Cachaca (a distilled spirit made from sugarcane juice) the most popular distilled alcoholic beverage in Brazil
Pisco Mule – light and refreshing with a hint of spice
Yuzu Sour – featuring hints of orange, fresh cilantro and a hint of Yuzu juice
Piloncillo Margarita – the Reposado tequila provides a smoky flavor that is balanced by the piloncillo (unrefined Mexican sugar)
RAYA, a restaurant concept by acclaimed Chef Richard Sandoval, showcases Pan-Latin Coastal Cuisine prepared with sustainable seafood, local produce, natural and organic meats, and Chef Richard Sandoval's signature Latin flavors. Raya's menu is prepared exclusively with fresh, local produce and sustainable seafood. Hawaiian Ahi Tuna and Lobster Tacos are amongst the signature small plates. Latin-inspired large plates include Achiote Salmon, Piloncillo Prawns and Miso Alaskan Black Cod.
# # #
About The Ritz-Carlton, Laguna Niguel
Located halfway between Los Angeles and San Diego, The Ritz-Carlton, Laguna Niguel sits on a 150-foot bluff with panoramic white-water views of the Pacific Ocean and two-miles of sandy beach. The resort is a re-imagined surfside retreat that awakens guests' senses with its unique ocean-front setting and remarkable service heritage. As the premiere destination for travelers who desire a playful approach to Southern California luxury, the resort has been the recipient of many awards over the years, but is proud to boast earning AAA Five Diamond status for the 29th year, the longest in California. For more information or reservations call 800-241-3333, the resort directly at 949-240-2000, a travel professional or visit ritzcarlton.com/lagunaniguel.
About The Ritz-Carlton,
The Ritz-Carlton Hotel Company, L.L.C., of Chevy Chase, Md., currently operates 86 hotels in the Americas, Europe, Asia, the Middle East, Africa, and the Caribbean. More than 30 hotel and residential projects are under development around the globe. The Ritz-Carlton is the only service company to have twice earned the prestigious Malcolm Baldrige National Quality Award, an award that originated in 1987. Its purpose is to promote the awareness of quality excellence, recognize quality achievements of companies and publicize successful quality strategies. The Ritz-Carlton Hotel Company won the award in 1992 and 1999. For more information, or reservations, contact a travel professional, call toll free in the U.S. 1-800-241-3333, or visit the company web site at http://www.ritzcarlton.com. The Ritz-Carlton Hotel Company, L.L.C. is a wholly-owned subsidiary of Marriott International, Inc.