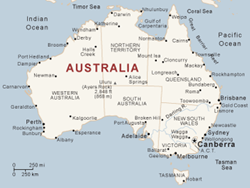 The Canberra office will allow us to meet the Australian demand for effective, economical solutions on SharePoint while also delivering excellent customer service.
Benicia, CA (PRWEB) July 22, 2014
Crow Canyon, a top provider of SharePoint business applications, today announced the expansion of its presence in the Australia and New Zealand region with the opening of a new office in the Australian capital of Canberra. The office will be managed by industry veteran Alex Kovaceski, who brings years of experience developing and implementing collaborative solutions at Australia's largest organizations.
SharePoint is the fastest growing Microsoft product of all time, and the market for SharePoint add-on products continues to increase at an equally rapid pace. Demand for Crow Canyon's suite of business solutions for SharePoint is expanding both globally and in the Australia/New Zealand region right along with SharePoint's growth.
"With many long-time customers in Australia and New Zealand, including private schools, large industries, government organizations, and manufacturing firms, as well as much new interest in Crow Canyon's applications, the Canberra office will allow us to meet the demand for effective, economical solutions on SharePoint while also delivering excellent customer service," said Scott Restivo, CEO of Crow Canyon Systems.
Crow Canyon is a US-based company that provides a portfolio of powerful SharePoint business process applications to help organizations around the world dramatically improve productivity. Solutions include IT Helpdesk, Human Resources, Facilities Maintenance, Asset Tracking, Procurement Management, and Customer Service. In addition, the company builds intranet, extranet, document management, and many other custom SharePoint application systems that meet specific customer needs.
Alex Kovaceski, who will manage the office and handle business development for the region, has extensive experience in identifying and implementing technologies to achieve significant business benefits in many Australian industries, including banking, insurance, federal and state government, IT, manufacturing, and the military. Centrally based in the Canberra office, Kovaceski will provide sales and support services throughout Australia, New Zealand, and Oceania region.
About Crow Canyon Systems
Founded in 1999, Crow Canyon Systems first provided business applications for Microsoft Outlook and Exchange. The company has been involved in SharePoint development for over 10 years. The Crow Canyon team's skill and dedication to meet each client's unique needs has consistently earned them high marks from their client base. With 1000s of customers worldwide, the company continues to grow to meet the worldwide demand for its products and services. Headquartered in California, Crow Canyon maintains offices in Boston, Canberra, and Hyderabad. For more information visit Crow Canyon's website or give them a call.