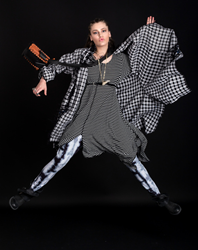 "Meetups like this one give artisan designers like me an opportunity to create incredible images with models and photographers that we may never have met through traditional outlets. It is very exciting," said Joanne Litz, co-founder of Steel Pony.
Philadelphia, PA (PRWEB) July 22, 2014
Steel Pony, an eco-friendly fashion clothing designer renowned for leading the way in sustainability and artisan apparel for woman of all ages and sizes, is no stranger to looking outside of the box for creative new ideas.
When Joanne Litz, co-founder and chief designer of Steel Pony, was invited by Bill Kendzierski to be the guest designer for the Models and Fashion Photographers of South Jersey (MFPSJ) Fall 2014 fashion photoshoot, Litz was not familiar with the concept.
Delving deeper into the local Meetup group, Litz found a new community for Steel Pony to connect and work with likeminded artists and designers of all levels. The Models and Fashion Photographers South Jersey Meetup group, created to bring together local fashion leaders and newcomers, parallels Steel Pony's own artistic and innovative fashion vision.
With 15.9 million members in 196 countries around the world, Meetup's overall mission is to revitalize local communities and help people self-organize by providing them with a social platform. Thousands of groups meet up each day, with additions being created every hour. The social platform is becoming increasingly sought after by creative people such as Litz, providing them with new means to network, market and share resources in all areas of the fashion industry in a safe, communal atmosphere.
"Meetup creates the ideal situation for me as a designer, and for Steel Pony as a company. The rigidity of a typical fashion shoot is gone. Everyone is gathered together, enjoying and learning from one another without pressure or pretense the fashion industry is known for. It reminded me how fun a fashion shoot can be," Litz said.
At Kendzierski's Models and Fashion Photographers of South Jersey Meetup's fashion shoot in June, Steel Pony featured their first Fall Collection & Modal Novelty Group, along with a few new styles available in the Steel Pony Essentials line.
A total of five models, six photographers, two make-up artists, one hair stylist, one fashion stylist, one jewelry designer, and the Steel Pony brand came together for over five hours to produce hundreds of beautiful images. Fashion photography groups such as MFPSJ provides the ultimate setting for industry newcomers as well as seasoned movers and shakers to ramp up their portfolios. For clothing companies such as Steel Pony, the Meetup group allows brands to display new styles on a variety of models with zero company risk.
"Everyone involved walks away with something wonderful that they can use," said Litz.
Steel Pony plans on joining the MFPSJ group again this July to shoot their second Fall Sweaters Collections for the upcoming season. As a result of this partnership with MFPSJ, more local groups have begun contacting Litz, eager to feature Steel Pony's clothing line in upcoming fashion shoots, including featuring Steel Pony's unique fashion outlook and styling into their Meetup group members' portfolios.
About Steel Pony:
ArtWear designers Joanne Litz and Dennis Wolk have built the Steel Pony brand by following their own rules. With a comfortable and relaxed lifestyle approach, Steel Pony creates sustainable eco-friendly artisan clothing that is made for the woman who appreciates individual expression. To see what Steel Pony can do for you and your lifestyle, visit http://www.steelpony.com.