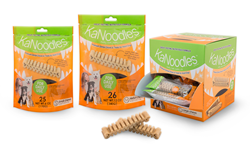 KaNoodles Dental Chews, made of wholesome grains, reach to the base of each tooth to help remove plaque and tartar.
Menomonie, WI (PRWEB) August 12, 2014
Pets Prefer® announces the addition of KaNoodles® dental hygiene chews for dogs to its line of trusted pet nutrition supplements. KaNoodles' patented shape provide a better cleaning by reaching to the base of each tooth to remove plaque and tartar build up. This pasta-based chew made with wholesome grains is easy to digest and supports both oral health and the immune system.
KaNoodles dental chews are more pliable than similar chews, but this does not reduce their effectiveness. In fact, clinical trials have shown dogs prefer to chew the product longer causing significantly greater interaction between the tooth and the chew and resulting in better cleaning. The formulation, which includes zinc, Omega-3 fatty acids and soluble fiber, contains no preservatives, artificial color, added sugar or GMOs.
Vets Plus, Inc., manufacturer of the veterinarian-formulated Pets Prefer products, is the exclusive distributor of KaNoodles in the United States and Canada. Raj Lall, President and CEO at Vets Plus, Inc. said, "We are thrilled to offer KaNoodles dental chews in the US market. They are a unique chew with strong scientific evidence showing their effectiveness in cleaning teeth and gums." Lall believes these products fit well within the Pets Prefer line, saying, "Our goal is to improve the overall health of pets by providing nutritional support. These unique chews do just that, and are a better option than other chews on the market because of their digestibility and distinctive shape."
KaNoodles dental chews are available in four sizes, small to extra-large, for adult dogs over 5 pounds. Pouches and countertop displays of individually wrapped dental chews are available for retail stores. Small, medium, and large chews are packaged in 6 ounce bags; medium, large, and extra-large chews are available in 12 ounce pouches.
Contact Pets Prefer at 800-468-3877 for more information.
About Vets Plus, Inc.
Vets Plus, Inc. (VPI), located in Menomonie, Wisconsin, is a leading manufacturer of health and nutritional supplements for both food and companion animals. With over 20 years of experience, Vets Plus creates custom formulations for contract manufacturing of innovative probiotic, prebiotic, nutritional, and nutraceutical products in a wide variety of feeding forms. Vets Plus is proud of its continued growth into a leader within the animal health industry and ability to manufacture several hundred products while maintaining ISO-9001:2008 and NASC certifications and cGMP and AAFCO compliance. Vets Plus is a member of the American Pet Products Association (APPA).
Media Contact
Katie Boehm, Marketing Specialist; katieb(at)vets-plus(dot)com, 715.231.1234