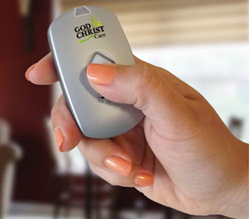 Care Connect is a great source of support in scary situations.
San Antonio, TX (PRWEB) July 22, 2014
The device can be worn around the neck or on a belt clip, and provides a clear, two-way voice connection to a call center staffed by trained representatives, including bilingual Spanish and English speaking representatives, and some who speak other languages. There's even an optional fall-detection system for high-risk patients. With the fall-detection feature, our call center is alerted any time the patient falls down, even if the patient is unconscious and cannot press the button on the Care Connect device.
Care Connect is a great source of support in scary situations. For example, suppose a patient falls after tripping over a cord while vacuuming. She can push the Care Connect button and a God and Christ Care call center representative will speak with her via the two-way voice connection and remain on the line while she gets up. The representative can then notify a family member who lives nearby, or, if the patient has been seriously injured, the representative would contact emergency services.
Or, suppose a patient hears someone breaking into her home. She can press her Care Connect button, and a God and Christ Care representative immediately dispatches the police, who can then apprehend the suspect before the patient faces any harm.
However, Care Connect isn't just for emergencies. Here are some non-emergency uses for Care Connect:

A patient informs the Care Connect representative that she needs transportation to an appointment with a specialist. The representative schedules a pickup with God and Christ Care's preferred transportation provider and notifies the patient of the pickup time.
A patient has questions about her absentee ballot for the upcoming election. The God and Christ Care representative assists her in completing the process.
A patient presses the Care Connect button to verify a physician appointment. Our representative verifies the appointment and puts a reminder on the patient's account, so the representative can provide a reminder of the appointment.
A patient has just come home from an extended hospital stay, where he has become accustomed to using a nurse call button. While he makes the transition from the hospital environment to living on his own, having a Care Connect device can make his life easier, and can also reduce the likelihood of a readmission to the hospital. By reducing patients' readmission to the hospital, Care Connect can improve patients' quality of life and save on medical expenses.
A patient's scooter is stalled, or her wheelchair has lost a tire. Care Connect can put the patient in touch with a durable medical equipment (DME) specialist. We are a one-stop shop that can also put patients in touch with their case manager, their physician's office, a physical therapist, or other medical-related services. We can also connect patients to their family members, all with the push of a button.
At God and Christ Care, we also love to pray for your loved ones. If a patient just needs someone to say a prayer with her, we can do that.
Even if you can't be with your loved one 24/7, our Care Connect button gives you the peace of mind of knowing someone is always available to help. Rest assured that if your loved one falls in the middle of the night, or if he just has a question about the best time of day to take his medication, God and Christ Care is there to help.