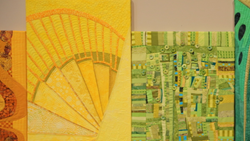 We are so lucky to have this kind of talent in eastern Nebraska, and feel proud for the opportunity to showcase their work.
Omaha, NE (PRWEB) July 21, 2014
AccuQuilt is excited to unveil the newest exhibit in their gallery – "Color Flow" by Fiber Works. Fiber Works is a collaborative group of 12 fiber artists from 7 cities in eastern Nebraska. This group works together to expand their knowledge and push the boundaries of their creativity. Their mission is to learn, inspire, and support each other in their fiber art endeavors.
For their fascinating "Color Flow" exhibit, each of the 12 members was assigned a color from the color wheel. The challenge was to create a piece measuring 18-inches wide by 30-inches tall that "reads" the given color. A variety of techniques, fibers, fabrics, and embellishments was encouraged. The color used was to be mostly pure, saturated color with hints of tones, tints, and shades of the color. Artists and colors include:
Red-Karen Murphy
Red Orange-Pat Stava
Orange-Dorothy Heidemann-Nelson
Yellow Orange- Merrilee Hansen
Yellow- Cynthia Levis
Yellow Green- Cindi Pape
Green-Marilyn Rembolt
Blue Green-Roxann O'Hare
Blue-Jo Drueke
Blue Violet-Peg Pennell
Violet-Sheila Green
Red Violet-Lynn O'Rourke
The Fiber Works mavens also have a bonus surprise, in the form of a collaborative quilt inspired by the work of lauded quilt artist elinor peace bailey. Ms. bailey sent each quilter an original piece to start with, and the talented quilters used their imaginations and ever-present sense of inspiration to add to it, creating a mix of beautifully unique squares. The squares were pieced together to create a truly unique and beautiful finished quilt.
AccuQuilt's Chief Energizing Officer Steve Nabity said, "We are so lucky to have this kind of talent in eastern Nebraska, and feel proud for the opportunity to showcase their work."
The AccuQuilt gallery is located in their headquarters at 8843 South 137th Circle, Omaha, Nebraska, 68138. The gallery is open Monday through Friday, from 10am to 2pm and closed weekends and major holidays. Admission is free for all visitors. AccuQuilt welcomes group or individual tours. To reserve your tour, simply call 888.258.7913 or email at tours(at)accuquilt(dot)com.
AccuQuilt GO! fabric cutters, dies and accessories are available at local quilt and fabric retailers. Quilters also can purchase GO!® and Studio™ fabric cutting systems by visiting http://www.accuquilt.com or calling 888.258.7913.
About AccuQuilt, Better Cuts Make Better Quilts:
Headquartered in Omaha, Neb., AccuQuilt offers quilters, fabric crafters and retailers a premiere line of fabric cutters, dies, quilting patterns and other quilt and fabric cutting solutions that help quilters quickly and accurately cut shapes for quilting and fabric crafts. AccuQuilt also offers quilters a wide variety of rich educational resources to enhance their quilting experiences. Cutting with AccuQuilt cutters is a natural evolution of fabric cutting methods. "First scissors… then rotary… finally… AccuQuilt" for fast, easy, accurate fabric cutting. Visit http://www.accuquilt.com for more information.