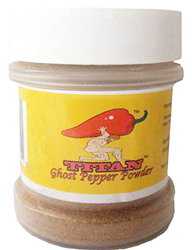 If you can't take the heat, eat Jalapenos!
Bayport, New York (PRWEB) July 22, 2014
Barbeque season is booming and people all across the country are grilling more than ever now. With all the seasonings to choose from, more people are turning to TITAN to give their food that extra kick and flavor it has been lacking. The Ghost peppers that TITAN uses in its products are the real deal and come from India, the leading grower of Ghost peppers. These peppers are HOT and have a great tasty and smokey flavor that is second to none. Whether you are grilling burgers or barbecuing chicken and steaks, TITAN Ghost pepper powder is perfect for that backyard weekend party or just for a simple dinner with the family. This Ghost pepper powder can be used for more than just barbeques. Use it as a chili powder, add a pinch to pasta sauce, sprinkle on a taco or anything you want to add INSANE heat to. Like 5 alarm chili, you'll love this stuff!
TITAN entered this competitive market and within the last year has made its mark by gaining popularity and loyal customers. Some "Pepper heads" as they call themselves, have stated they are switching over to the TITAN brand and moving away from their usual brand due to the flavor and heat that is in every jar of our hot pepper powder.
On June 24, 2014, Heath from Columbus, OH said, "I Love the Titan! It is awesome! I can stand the hottest of the hot and this allows you to make foods as hot as you want by of course putting on as much as you want. It's got a straight up hotness with a perfect bit of smoke flavor."
TITAN's CMO Bill De Pace said the marketing efforts for the company are paying off. Mr. De Pace went on to say that more people are using the TITAN brand now more than ever and new flavors will be coming out soon due to its rising popularity.
Controlling the heat is an advantage to any chef or backyard barbeque master. TITAN allows you to do just that.